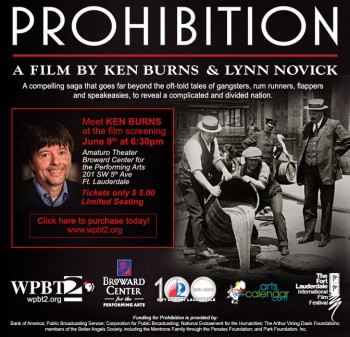 Meet Award-Winning Filmmaker, Ken Burns, At the Screening of His New Film: Prohibition
Thursday, June 9, 2011, 6:30pm
Amaturo Theatre at the Broward Center for the Performing Arts
201 SW 5th Avenue
Fort Lauderdale, FL 33312
Website.
WPBT2, in association with the Broward Center for the Performing Arts, welcomes Ken Burns as he hosts a community screening for his new PBS documentary, Prohibition. The screening will be held on Thursday, June 9 at 6:30 p.m. at the Broward Center for the Performing Arts Amaturo Theatre. Burns will lead a discussion on the film with local experts on the broader topics of civility and democracy, which he explores in this project. Burns will also answer audience questions after the screening.. Admission is $5 and tickets are available online at www.mychannel2.org/kenburns or by calling 305-424-4025 or 305-424-4013.
Burns has been making films for more than thirty years. Named as one of the most influential documentary makers of all time, Burns has gone on to direct and produce some of the most acclaimed historical documentaries ever made including The Civil War, Baseball, The Tenth Inning, The National Parks: America's Best Idea, Jazz, The War and many more.
Attire: Dress is your best outfit from the 1920's and enjoy music from that era!