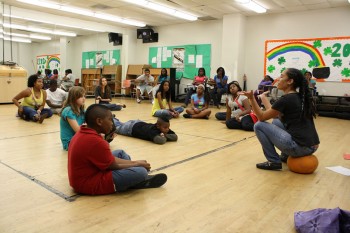 All Youth Cast Write And Perform, The Story Within Me An Original Musical Production
Saturday, April 30, 2011 @ 7:00p.m.
The Gusman Center For The Performing Arts
174 E. Flagler St.
Miami, Fl 33131
Voices United, (VU) a Miami-based non-profit organization designed to promote cross-cultural understanding through the arts, is proud to present, The Story Within Me, an uplifting musical written and performed by a dynamic and multi-cultural cast of 72 students, ages 10 to 18. It is the story of a group of people, with diverse backgrounds and experiences stuck at an airport together. Social issues such as discrimination, substance abuse and pollution are addressed through compelling scenes, heartfelt songs and energetic choreography.
The culturally diverse ensemble is comprised of student actors, singers, dancers, musicians & visual artists, representing 30 schools in Miami-Dade & Broward Counties.
Tickets: General Admission: $10, Special Seating: $25, VIP Seating & Reception: $75
To purchase tickets for The Story Within Me please visit http://voicesunited.org/voicesunited/calendar or contact Katie Christie, Founder & Artistic Director, 305-726-4822, e-mail Katie@voicesunited.org.
Photos attached: 2876 jpg. Caption: Katie Christie, Founder & Artistic Director for Voices United and cast members creating the plotline for The Story Within Me during a rehearsal. 2922 jpg. Caption: Nick Williams, 18, and Bianca Sirgany, 16, composing a song for The Story Within Me presented by Voices United. Photos by: Voices United.