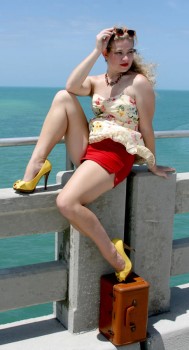 L.A. Boudoir Miami 1 Year Anniversary Celebration
May 7,2011, 10am-10pm
L.A Boudoir Miami
6900 Biscayne Blvd
2nd floor of Uva69 Restaurant
Miami,Fl,33138
www.laurenarkinmiami.com
Join us in celebrating L.A. Boudoir Miami's 1 Year Anniversary Celebration.
Sat May 7 starting at 10am.
Enjoy a day filled with sweets and treats,a shopping extravaganza with complimentary Pin-Up Headshots by reknowned Cupcake Pin-Ups.
Headshots include:hair,make-up,1 edited photo.Please RSVP by May3.Limited Space for Headshots.
To conclude the day enjoy a Cupcake Burlesque performance at 9pm,featuring Jenna Beth and Lila Starr.
More info and RSVP Lauren:305-775-8127