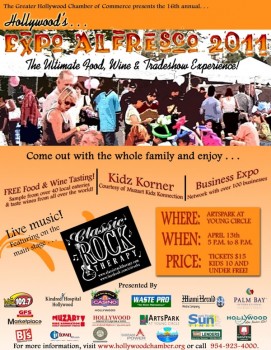 Hollywood's Expo Alfresco – The Ultimate Food, Wine & Tradeshow Experience!
April 13, 2011, 5:00 pm – 8:00 pm
ArtsPark at Young Circle
Hollywood Blvd. and Federal Highway
(Downtown Hollywood)
Website.
Tickets on Sale NOW for Hollywood's Expo Alfresco!
The Greater Hollywood Chamber of Commerce (GHCC) invites everyone for the The Ultimate Food, Wine & Tradeshow Experience – Hollywood's 16th Annual Expo Alfresco, which will be from 5:00 p.m. to 8:00 p.m. at ArtsPark at Young Circle (Hollywood Boulevard and Federal Highway) on Wednesday, April 13, 2011.
Every year this GHCC signature event draws in over 3,000 attendees and is Hollywood's GREATEST outdoor wine and food festival also featuring live entertainment with Classic Rock Therapy, a Kidz Korner And Much More!
2011 Participating Restaurants:
Amazing Chocolates
Dave & Buster's Hollywood
DiSalvo
Edible Arrangements
GG'S Waterfront Grill
Gino's Italian American Deli & Meat Market
Liguori's Fired Up
Mama Mia Restaurant
Mardi Gras Casino French Quarter
Moe Moe's Hot Dogs
Nilus Bakery
Over The Top Catering & Take-Out
Popcorn Zone
Sage Oyster Bar & French Bistro
San Francisco Burritos
Solita Las Olas
Sports Zone 84
Tatiana Restaurant
Tijuana Flats
"Just from participating in Expo Alfresco last year, I was able to meet seven new customers. The profit for my business was well over $1,000, which covered my booth cost and GHCC membership dues combined," says Chamber member Carlos Jimenez (pictured left) of Air Purifying Systems.
Booth space is going fast! Businesses or restaurants that want to market or sell their products are asked to visit www.hollywoodchamber.org for booth prices and to download all forms.
This event is sponsored by: GFS Marketplace, the Hollywood Seminole Indian Casino, the City of Hollywood, the Miami Herald, Kindred Hospital, A Great Place to Sit, South Florida Sun-Times, Arts Park, InTown Publishing, Waste Pro, Palm Bay International and Hollywood Discount Liquors. Special thanks to Muzart Kidz Konnection, Sidram Power, Inc., Spaten Beer, Homelenders, BJ's and Solfaradio.com for their continuous support.
Tickets for Expo Alfresco are only $15 and children under 10 are free! They can be purchased at the door or at the Chamber building (330 N. Federal Highway in Hollywood).
Visit www.hollywoodchamber.org/video-gallery to watch Expo on YouTube!
For more information, please call 954.923.4000.