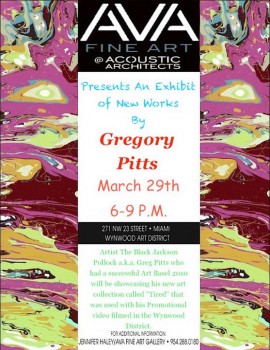 AVA's Premier VIDEO presentation and new works by artist GREG PITTS
Tuesday, March 29,2011, 6pm-9pm
AVA Fine Arts @ Acoustic Architects
271 NW 23rd Street
Miami, FL 33060
www.avafineart.com
AVA Fine Art @ Acoustic Architects presents its first video presentation of Gregg Pitts and Lamar TV. Greg will also be premiering select pieces of his new series "Tired".
Greg Pitts is a diverse, self taught artist with over 30 years experience as a photographer. He was a winning semi-finalist in "W" Magazine's "Obsession" contest and a participating artist in 2010 Art Basel.
AVA is home to a state of the art 12′ projection screen and excited to finally have an evening to showcase an local video artist.
This is one night only event, so this is the only chance that you will have to see it, so please don't miss this!