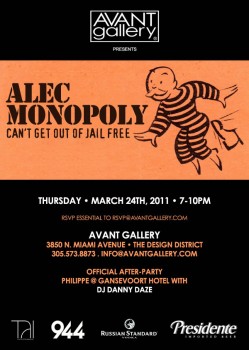 Thurs/March 24th/7-10pm
Avant Gallery
3850 N. Miami Avenue
Miami. Florida. 33127
rsvp to rsvp@avantgallery.com
Avant Gallery proudly presents the work of 'Alec Monopoly', a young street artist based in Los Angeles, known throughout major city centers such as New York, London and Los Angeles for his placement of the beloved protagonist of the synonymous board game over lampposts, billboards, walls and telephone posts.
'Alec Monopoly' is the alias of an unidentified graffiti artist, originally from New York City. The artist primarily works… in the urban environments of New York and Los Angeles, using varied materials (including stencils, spray paint, epoxies, varnishes and newspapers) to subversively depict the protagonist of the internationally-beloved board game, Monopoly. 'Alec' cites his artistic origins as learning from his mother, an artist, eventually abandoning traditional academically-driven art classes to pursue an individual methodology. 'Alec' and his work have been covered by The Huffington Post, The Wooster Collective (New York), Juxtapoz Magazine, and The Dirt Floor.com. Recently, Paramount Pictures commissioned Alec to design the logo for their new production company, Insurge. The artist lives and works in Los Angeles.
Reception is sponsored by TAI Entertainment, 944 Magazine, Russian Standard Vodka, and Presidente.
Join us for the official after-party at Philippe Restaurant/Gansevoort Hotel, featuring DJ Danny Daze.