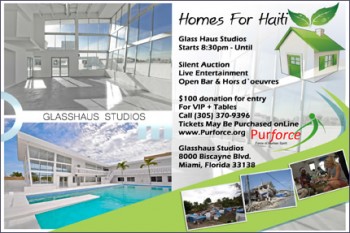 You are cordially invited to attend Homes for Haiti
Saturday, March 19th, 8:30pm
8000 Biscayne Blvd
Miami, FL
a CharityEvent by PurForce to Benefit the People of Haiti
Who is Purforce?
Purforce is a non-for-profit organization dedicated to providing long term support for the people devastated by the earthquake of 2010.
Purforce is made up of volunteers; we are a group of concerned citizens who donate their time, expertise and money to getting aid on the ground, to directly impact the people of Haiti. These volunteers have joined together to dedicate their talent and energy to helping people in Haiti rise again and prosper.
In its short existence, Purforce has:
Helped hundreds of Haitian citizens get medical care
Brought thousands of medical supplies to the ground
Assisted in delivering prosthetics
Delivered hundreds of toys to the children of Haiti during the holidays
Organized 18 mission trips with volunteers on the grounds of helping local citizens in tent cities
Support Purforce!
More infomation at: www.purforce.com