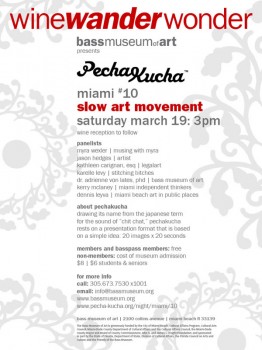 March 19, 2011 3:00 pm – 5:00 pm
Miami #10
Bass Museum Of Art Hosts Pechakucha Event On Slow Art Featuring Local Thought Leaders
Please note NEW Address
2100 Collins Avenue
New Collins Park entrance
Miami Beach, FL 33139
www.bassmuseum.org
Admission is free for members, $8 for adults and $6 for seniors and students with ID.
PechaKucha was devised in Tokyo in February 2003. Drawing its name from the Japanese term for the sound of "chit chat", it rests on a presentation format that is based on a simple idea: 20 images x 20 seconds. During wine, wander, wonder at the bass museum of art, panelists will be discussing the slow art movement, dedicated to realizing the idea that "if you look slowly, you will see."
panelist presenters:
myra wexler | musing with myra
jason hedges | artist
kathleen carignan, esq | legalart
karelle levy | stitching bitches
dr. adrienne von lates, phd | bass museum of art
kerry mclaney | miami independent thinkers
dennis leyva | miami beach art in public places
www.pecha-kucha.org/night/miami/10
The Bass Museum of Art in Miami Beach will host a PechaKucha, a creative networking event, exploring the local Slow Art Movement on Saturday, March 19th from 3:00 p.m. to 5:00 p.m. as part of the museum's monthly Wine, Wander, and Wonder program. PechaKucha is a Japanese inspired event for creatives to meet, network and share their work in public.
With 20 Power Point slides shown for 20 seconds each, local thought leaders – Myra Wexler (Musing with Myra), Jason Hedges (Artist), Kathleen Carignan, Esq (LegalArt Residency Program), Karelle Levy (Stitching Bitches), Dr. Adrienne Von Lates (Bass Museum of Art), Kerry McLaney (Miami Independent Thinkers), Dennis Leyva (Miami Beach Art in Public Spaces) – will have about seven minutes to talk about developing conversations and community issues around their passion in the arts.
A wine reception available to all attendees will immediately follow the presentation.
About Slow Art
Slow Art Day started in 2009 as an experimental program with the hypothesis to see if it was possible to make great art more enjoyable and accessible to the general public – i.e. to share the "secret" that art experts, curators, educators, artists and others know: that if you look slowly, you will see. The end goal is to create "inspired, not tired" art experiences that keep audiences engaged. www.slowartday.com/index.html
About PechaKucha
PechaKucha was conceived in Tokyo in February 2003 by architects Mark Dytham and Astrid Klein as an event where young designers could meet, network and show their work in public. Over time, it has evolved into a massive celebration of creativity with over 380 cities represented hosting 900 events last year. The combined power of these cities equates to an incredible 10,000 presentations and 200,000 PechaKucha attendees annually.
Drawing its name from the Japanese phrase for the sound of conversation ("chit chat"), the PechaKucha format is simple—20 images x 20 seconds—and designed to keep presentations concise and moving at a rapid pace. www.pecha-kucha.org/cities/miami
About Bass Museum of Art
Located in Miami Beach, the Bass Museum of Art offers a dynamic year-round calendar of exhibitions presenting contemporary art, works of art from its permanent collection of Renaissance and Baroque paintings, sculpture and textiles, and newly opened Egyptian Gallery. Artist's projects, educational programs, lectures, concerts and free family days complement the works on view. Founded in 1963 when the City of Miami Beach accepted a collection of Renaissance and Baroque works of art from collectors John and Johanna Bass, the collection was housed in an Art Deco building designed in 1930 by Russell Pancoast. Architect Arata Isozaki designed an addition to the museum that doubled its size from 15,000 to 35,000 square feet between 1998 and 2002. For more information, please visit http://www.bassmuseum.org