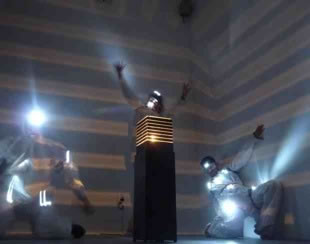 12 Nights of Electronic Music and Art IV: Music for home-made electronics and gyroscopes
Featuring El MuCo and The UOM
March 20, 2011 at 7PM
Brook Dorsch Gallery
151 NW 24rd Street
Wynwood District
Miami, FL 33127
El Muco talk followed by the concert
FREE
info@12nights.org
www.12nights.org/Season4/season4.html
Tonight, we are presenting two exciting multi instrumental groups: El Muco from New Haven, CT and The UOM from Miami, FL.
El Muco's Brian Kane and Scott Petersen will perform on custom designed electronic instruments, creating ambient evolving and self-sustaining sonic textures with a high degree of complexity and internal life. El Muco will talk about their instruments before the concert and invite the audience to play the instruments before and after the concert!
The UOM uses a gyroscope as a metaphor for collective improvisation. Through the exploration of current and vintage technologies, the UOM seeks the inner sanctum of sound art: the majesty of a gesture that cannot be repeated and an experience that is at once unforeseeable and inevitable.
This event is a part of XXI Subtropics Festival (subtropics.org).
With the support of Foundation of Emerging Technologies and Arts, Brook Dorsch Gallery, Harold Golen Gallery, SCFA and the Miami-Dade County Department of Cultural Affairs and the Cultural Affairs Council, the Miami-Dade County Mayor and Board of County Commissioners.