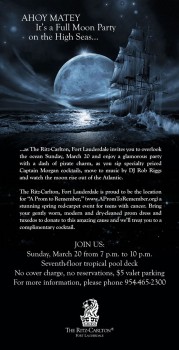 Grab your bottle o' rum, start practicin' ye' captain stance and pirate tongue for a Full Moon party on t' high seas…
Sunday, March 20 from 7 to 10 p.m.
The Ritz-Carlton, Fort Lauderdale
One Fort Lauderdale Beach Boulevard
954-465-2300
Full Moon Party At The Ritz-Carlton, Fort Lauderdale
The Ritz-Carlton, Fort Lauderdale invites you to a Full Moon party on the high seas overlooking the ocean and enjoying a glamorous party with a dash of pirate charm, as you sip specialty priced ($7) cocktails with Captain Morgan (get your pirate stance ready), move to music by DJ Rob Riggs and watch the moon rise out of the Atlantic suspended over the ocean on the dramatic 7th floor tropical pool deck.
The Ritz-Carlton, Fort Lauderdale is proud to be the location for "A Prom to Remember," (www.apromtoremember.org) a stunning spring red-carpet event for teens with cancer. Bring your gently worn, modern and dry-cleaned prom dress and tuxedos to donate to this amazing cause and we'll treat you to a complimentary cocktail.
Casual, chic and sensual, these full moon parties make you feel like a VIP. Gorgeous Ritz-Carlton service, no cover charge, no reservations and just $5 valet parking.