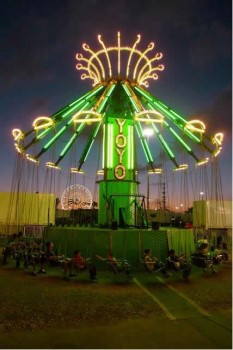 Winning!! — Artcenter/South Florida's 9th Annual Winning Art! Raffle Exhibit Opens
Saturday, April 9, 2011 at 7:00 p.m.
800 Lincoln Road
Big Draw Slated for May 7; Works for Bid Online and On View in Main Gallery – Miami Beach
ArtCenter/South Florida launches the 9th Annual Winning Art! benefit raffle. The opening reception slated for Saturday, April 9, 2011 at 7:00 p.m. at 800 Lincoln Road will showcase contemporary works up for bid by forty of ArtCenter's artists-in-residence. In the wake of damages caused by a recent fire in artist Nina Surel's space, also affecting Alex Heria and Natasha Duwin's studios, the non-profit gallery is counting on this year's event to rally renewed support for its artists and programs.
At a humble $10 per raffle ticket, patrons will have the opportunity to bid on their choice piece, donated by an established or emerging professional resident artist. The math is simple: the more tickets purchased, the higher the odds of winning. With works currently on view at www.artcentersf.org and at the gallery from April 8 until May 8, the big draw will take place on Saturday, May 7 at 7:00 p.m. in the main gallery. Admission to the raffle event is $20 or free for ArtCenter members (raffle ticket costs additional).
More About ArtCenter/South Florida Membership
For more than 25 years, ArtCenter/South Florida members have enjoyed the benefits of an enriching program, including behind-the-scenes studio visits with artists, invitations to exclusive events and discounted tuition for a variety of encompassing art classes. ArtCenter members not only take part in bringing contemporary art to the community, the membership program allows ArtCenter to generate valuable job opportunities for artists and educators, as well as free art programs for at-risk youth.
About ArtCenter/South Florida
Established in 1984, ArtCenter/South Florida (located at 800, 810 and 924 Lincoln Road, Miami Beach) is a non-profit 501(C)(3) organization that provides subsidized studio and exhibition space as well as teaching opportunities for emerging and career artists in their facilities at 800, 810 and 924 Lincoln Road, Miami Beach. The mission of the ArtCenter is to advance the knowledge and practice of contemporary visual arts and culture in South Florida while providing affordable programming and work-space for professional artists. ArtCenter/South Florida is open Tuesday through Thursday from 12:00 p.m. until 10:00 p.m. and Friday through Sunday from 12:00 p.m. until 11:00 p.m. For further information please call 305.674.8278 or visit the website at www.artcentersf.org.