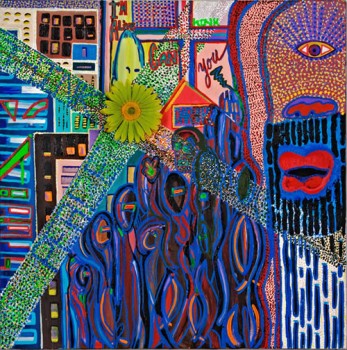 Award-Winning Director & Fine Artist Victor-Hugo Vaca Jr presents his "Modern Art Gonzo Journalism"
Wednesday March 9, 2011, 7pm-9:30pm
Red Bar Gallery Brickell
52 SW 10th Street
Miami, FL 33130
Website.
Concurrent with Miami International Film Festival Week, meet Award-Winning Director Victor-Hugo Vaca Jr and see the Miami Premiere of his 18-minute short: "Crackhead Jesus : The Movie" winner of 2010 DBFF. Complimentary wine and hors d'oeuvres. Ladies Night. 7:30 – 9:30 Gallery Night spotlights the provocative fine art of Maverick Artist Victor-Hugo, creator of "Modern Art Gonzo Journalism" fusing the journalistic approach of Hunter S Thompson and the cryptic artwork of Salvador Dali. Major media outlets call Victor-Hugo a "modern-day Van Gogh…Picasso…and Warhol…" Vaca's work consistently ranks in the top 1% of Google Image search for "Modern Art". Experience this enlightening and thought provoking evening of film, art and music.
This is a FREE event. Complimentary hors d'oeuvres & wine. Wednesday is Ladies night with free champagne 8pm-10.