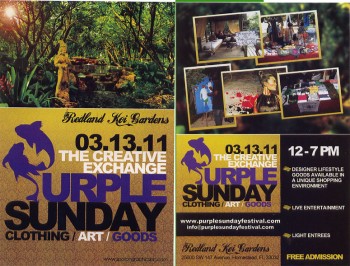 Purple Sunday – Creative exchange
3/13/11, 12pm – 7pm
Redland koi Gardens
25600 sw 147th ave.
Homestead, FL 33032
Website.
MIAMI'S HIDDEN ARTISTIC TALENT SHINES ON PURPLE SUNDAYS
Purple Sunday is a creative arts exchange festival held to showcase Miami's hot, upcoming artistic talent, to be held in the beautiful Redlands Koi Gardens in Homestead, Florida on March 13th, 2011. "Purple Sunday is about providing opportunity and showing people what the real Miami has to offer," says organizer and founder Alicia Hugh. "People can come see great art work, unique lifestyle goods, and live music, but more importantly, they can meet the creators, find out what inspires them, and allow themselves to become a part of the story," revels Ms. Hugh.
Purple Sunday artists and designers have been featured in print publications such as the New Times and Miami Herald, as well as online publications such as www.thrillist.com, and have been present at local art events like The Wynnwood Market. "We want Purple Sunday to become a name synonymous with great local art and design, where artists and vendors, whether advancing or well-noted, can come to exchange creative ideas, network, and showcase their work," adds co-founder Rachel Hugh.
Purple Sunday was birthed in April 2009, when sisters Alicia and Rachel Hugh, with a handful of friends, realized their creative work had no platform or outlet to show the public. The first event took place in a neighbourhood backyard, with only a handful of vendors and approximately 80 attending. The first event generated so much attention and demand that Ms. Hugh organized the second just months after, in July 2009, and changed the venue to the Redland Koi Gardens to accommodate more guests. Ten vendors were booked and 250 people attended. This year they are approximating to have 20 vendors and at least 400 people attend.
For further information and vendor details, please contact Alicia Hugh at info@purplesunda yfestival.com , or check out our website at www.purplesundayfestival.com