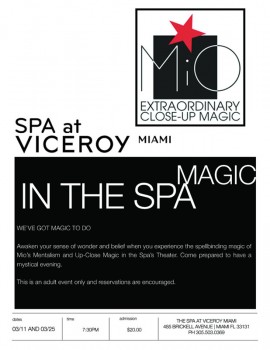 Magic in the Spa
03/11/11, 7:30pm
The Spa at Viceroy Miami
485 Brickell ave Miami FL 33131
www.viceroymiami.com/spa
MAGIC
IN THE SPA
03/11 AND 03/25 7:30PM $20.00
WE'VE GOT MAGIC TO DO
Awaken your sense of wonder and belief when you experience the spellbinding magic of Mio's Mentalism and Up-Close Magic in the Spa's Theater. Come prepared to have a mystical evening.
This is an adult event only and reservations are encouraged.
This will be a series of events thru end of May — every other friday