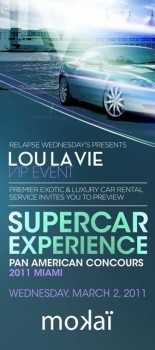 Wednesday March 2nd At 10:00 Pm
Mokai Lounge
235 23rd Street
Miami Beach
You are cordially invited to be our personal guest in celebrating "supercar style" as Lou La Vie, Miami's leading exotic and luxury car rental service, presents a sneak preview of Supercar Experience Panamerican Concours 2011
Please join us for complimentary cocktails from 10:00 to 11:00 p.m.
In advance of the festivities, Mokai neighbor, Eden South Beach, will offer guests an exclusive, specially priced pre-event menu designed to delight the taste buds of supercar lovers. The menu will include specialty bites and cocktails for those looking to rev up their engines prior to partying.
Reservations may be made by calling Eden at 305.397.8760.
This event is open to the public however RSVP is essential to rsvp@loulavie.com.