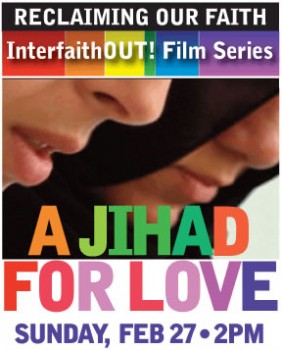 Sunday, Feb 27 · 2:00 pm
A Jihad For Love
The Wolfsonian-FIU Auditorium
1001 Washington Ave
Miami Beach
RSVP required: Lydia Lopez at 305.535.2644 or lydia@thewolf.fiu.edu
Film Series to Promote Dialogue About Spirituality and LGBTQ Identity
Co-Presented by SAVE Dade and The Wolfsonian-Florida International University
In a time of uncertainty and unrest in Egypt and throughout the Middle East, where Islamic GLBTQ individuals' rights and lives are under tremendous attack, this timely documentary explores the complex global intersections between Islam and homosexuality. The film travels from India to Pakistan, Iran, Turkey, Egypt, South Africa, and France. Always filming in secret and as a Muslim, Sharma makes the film from within the faith, depicting Islam with the same respect as the film's characters.
Amanullah DeSondy, Visiting Professor of Islamic Studies at University of Miami, will moderate a post-film discussion. A wine reception will follow. Admission to the film and reception is free.
Co-Presented by SAVE Dade and The Wolfsonian-Florida International University
Sponsored by the Unitarian Universalist Congregation of Miami – Herrs
chaft Lecture and Cultural Fund, FIU Women's Studies, Center in the Study of Spirituality at FIU, and the News Cafe.
Fish Out of Water: http://www.fishoutofwaterfilm.com/
All God's Children: http://www.womanvision.org/all-gods-children.html
A Jihad for Love: http://www.ajihadforlove.com/press.html
(No site available for Jerusalem is Proud to Present)
SAVE Dade's mission is to promote, protect, and defend equality for people in Miami-Dade County who are LGBT. InterFaithOUT is an active project of SAVE Dade focused on the awareness of the faith community to the issues affecting LGBTQ persons.
The Wolfsonian-FIU is a museum, library, and research center that uses objects to illustrate the persuasive power of art and design, to explore what it means to be modern, and to tell the story of social, historical, and technological changes that have transformed our world. The collections comprise approximately 120,000 objects from the period of 1885 to 1945-the height of the Industrial Revolution to the end of the Second World War-in a variety of media including furniture; industrial-design objects; works in glass, ceramics, and metal; rare books; periodicals; ephemera; works on paper; paintings; textiles; and medals.