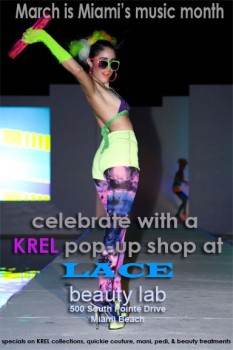 March 1 – 30, 2011
Tuesday – Saturday 10 am – 8 pm
KREL pop up at LACE Beauty Lab
500 South Point Drive, ste, 120
Miami Beach, FL 33139
305-532-0190
Come get pampered while listening to great grooves. Miami's music month brings KREL & LACE together with a KREL pop up shop at Lace Beauty Lab!
Miami's premiere designer Karelle Levy, designer of KRELwear, and the company's official spokes model Anna Elizabeth bring you fashion, glamour, & beauty, for the musical month of March. Lace owner Anna Elizabeth is excited to host a series of events and parties alongside Karelle Levy, KRELwear designer. A series of fun, relaxing and tantalizing events will be happening through out the month featuring a variety top female djs and musicians.
Call to make your appointments for fabulous custom quickie couture pieces, sewn while you get your mani-pedi. Feel free to make your appointments for quickie couture, manicures, pedicures, facials, wax, and all your beauty needs. Check out specially picked KREL pieces: hand loom one of a kind dresses, play suits, separates, hot shorts and KRELwear basics, perfect for dancing the night and day away, or just because.
Hot Tips for the Month: Buy $250 or more of KREL and get a complimentary quickie manicure or discounts on all other services.
Events include:
March 9th, 6 – 9pm "A Night of Quickies" Get sexy in a flash. Custom couture starting at $30 and a mani-pedi for only $25, while you wait. Happy ending guaranteed.
March 166h , 2 – 8pm "To Dye For" Breathe new life through color. Either Tied dye or piece dye your new or past KREL pieces. Lace will match your nails too!
March 23rd , 4-8pm "The Ultra Fabulous Tea Party" The infamous tea party is being held at Lace. We love sipping our tea with Fashion & Beauty
March 30th, 4-8pm "Stitchin', Boozin', Beauty, Bitches"…… Been dancin' all month? Need a footbath and some bitchin' time??? Come by for mani-pedi's till 8 or just chill with tea, cocktails and stitchin' till 10pm.