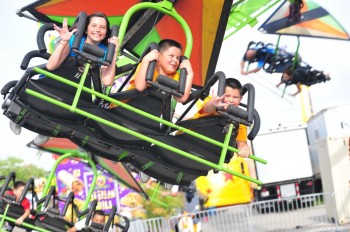 The Ultimate Live! Experience Begins At The Fair
March 17 through April 3
Coral Way (SW 24th Street) and 112th Avenue
Southwest Miami (Fairgrounds).
Hours: Noon until midnight Thursday March 17, Friday, March 18 (last two days of spring break) and all Saturdays and Sundays.
Weekdays 3 p.m. to midnight.
www.fairexpo.com
www.facebook.com/miamidadefair.
Fair-Time Regular General Admission: $10 general admission and free for children five years of age and younger. Fair-Time Deals: 50 percent off Opening Day Admission
The Fair in Miami-Dade reaches its 60 year mark March 17 through April 3. Spread across 18-days, The Fair ranks as one of the largest and most successful family events in the country, offering more than half a million guests new ways of pushing the LIVE! Experience to the Next Level.
On Opening Day, Thursday March 17th, the Ultimate LIVE! Experience begins with Latin Grammy Award winners Chino y Nacho LIVE! in concert at 9pm. The Venezuelan duo made their album debut nationally in 2008 and later gained acclaim with their international chart-topping smash hit "Mi Nina Bonita" and "Tu Angelito" in 2010.
Packages On-Sale Now. Quantities Limited.
Fans can purchase Ultimate LIVE! Experience packages in advance to Meet & Greet hot new artists slated to perform as part of Friday Nights Rock and NEW this year Saturday Nights…LIVE! and SunDay FunDays A-LIVE! Package includes 1x Admission Ticket, 16x Ride Tickets and 1x Ultimate LIVE! Seat with Access Pass. Buy your tickets now for only $49.99 available February 14 – March 4th. Visit www.fairexpo.com for more details. Quantities are limited.
Discount Advance Sales Tickets
Fairgoers receive the biggest savings (admission, POP & rides coupons) on tickets to The Fair 2011 during the Advance Sales Ticket window. Discounts of up to $7 per person are available now until The Fair opens on Thursday, March 17th by visiting www.fairexpo.com.
Advance Sales Single Ticket Prices
· Single Admission $8 (Good for admission for ages 6 and over any day including Opening Day, March 17, 2011. 5 & under FREE). Price during fair is $10. Save $2.
· POP $20 (Good for unlimited rides Monday – Friday ONLY. Not good for school field trips or weekends.) Price during The Fair is $25. Save $5.
· 22 Any Day Ride Coupons $17 (Good on midway rides any day of The Fair including school field trips and weekends.) Price during The Fair is $25. Save $8.
Thursday, March 17th at 9pm | Featuring international artists Chino y Nacho
Friday, March 18th at 9pm | Featuring American rock band Paper Tongues
Friday, March 25th at 9pm | Featuring FCW and WWE Superstars
Friday, April 1st at 9pm | Featuring alternative band The Ready Set
Saturday, March 19th at 9pm | Featuring Christian Singer/Songwriter and GMA Female Vocalist of the Year Natalie
Saturday, March 26th at 9pm | Featuring Nicaraguan Grammy Award winner Luis Enrique
Saturday, April 2nd at 9pm | Featuring Latin and Grammy Award nominated Puerto Rican Salsa Singer Jerry Rivera
Sunday, March 20th Noon – 5pm | Featuring Sid the Science Kid and Super Why!
Sunday, March 27th Noon – 5pm | Featuring The Cha-Cha Slide & Mr. C The Slide Man, Sid the Science Kid and Super Why!
Sunday, April 3rd Noon – 5pm | Featuring The Dirty Sock Funtime Band, Sid the
Science Kid and Super Why!
The Fair Reaches Its 60th Year Mark…Pushing the LIVE Experience to the Next Level! Live the Experience | March 17 through April 3, 2011. Be There – The Fair – Be There.
Presented by Pepsi, Kia Motors America and Sedano's Supermarkets, The Fair is ranked the largest fair in Florida, attracting well over half a million visitors annually.
This adrenaline-filled 18-day event includes LIVE! entertainment, state-of-the-art rides, skill games, outrageous fair foods and livestock/agricultural competitions. The Fair proudly showcases more than 50,000 local student exhibits, both artistic and academic, and generously supports youth achievement programs throughout the year.