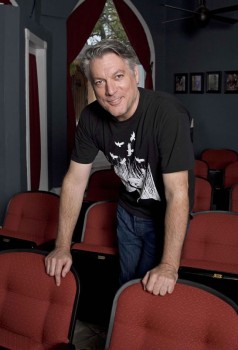 Miami Beach Film Society's New Cinematheque To Host 2011 Oscar Night® America, Miami Beach
Sunday, February 27, 2011.
Red carpet will begin at 7:00 p.m
The Miami Beach Cinematheque
Miami Beach City Hall
1130 Washington Avenue, 1st floor
Miami Beach, FL
Tickets to the 2011 Oscar Night America Miami Beach are available for $125 or $110 for Miami Beach Film Society & Cinematheque and MIFF members. Ticket prices include food and beverages, tax and gratuity, a $25 Escopazzo gift certificate, the official 83rd Annual Academy Awards® program booklet and other event memorabilia.
Please visit www.MBCinema.com for tickets.
Oscar celebration to coincide with grand opening & Frank Worth "Hollywood Legends" exhibit
The Academy of Motion Picture Arts and Sciences has selected the Miami Beach Film Society to host and be the beneficiary of the official celebration in Miami for the Oscar Night® America (ONA) party. Oscar Night® America viewing parties are the official nationwide celebrations of the Oscars®. ONA Miami Beach 2011's cocktail soirée will also act as a grand opening event hosted at the film society's yet to be unveiled cinematheque, located inside the historic Miami Beach City Hall, on Oscar® Sunday, February 27, 2011.
Additional Oscar Night® sponsors include Escopazzo, Bombay Sapphire, Francis Ford Coppola Presents, Nespresso, Perrier and Audio Visual Services.

The Oscar Night® America, Miami Beach red carpet and silent auction will be hosted by Miami Beach Film Society founder Dana Keith. Red carpet arrivals and fabulous evening looks courtesy of Ema Savahl Couture – most recently seen on E!'s Giuliana Rancic and Glee's Amber Riley – and Beautiful People will begin at 7:00 p.m. followed by a welcome champagne reception. Guests will then watch the Oscar® telecast live from the Kodak Theatre at Hollywood & Highland Center® in Hollywood starting at 8:00 p.m. (EST) on WPLG Local-10. Attendees will toast Oscar winners while enjoying Escopazzo's signature 100% organic Italian hors d'oeuvres with Bombay Sapphire signature cocktails and Sofia Blanc d' Blancs, Director's Cut Chardonnay and Director's Cabernet Sauvignon by Coppola Wines, while bidding on extravagant items during the event's silent auction. Oscar® fans will also be able to predict the night's winners using a ballot system and become eligible to win great prizes! Oscar Night® promises an experience that exudes the classic glamour and luxury of the 83rd Annual Academy Awards, complete with the Academy Awards® show program booklet for all guests.
The Miami Beach Cinematheque, Miami's premier art house cinema, recently relocated to Miami Beach City Hall (1130 Washington Avenue, 1st floor) after spending eight years at its original Española Way location on South Beach. MBC's new sustainable home features high-definition digital projection with Bose surround sound, 75 plush stadium-style seats, a photographic arts gallery, gourmet concession stands featuring the new MBC line of baked goods and Nespresso coffees, and unique programming throughout the year including screenings of Oscar® winning and nominated films in many categories. MBC is the only officially sanctioned beneficiary of the Miami Oscar Night® America.
MBC's inaugural photographic art exhibition will feature the work of renowned photographer Frank Worth in collaboration with Rudolf Budja Gallery. Worth's "Hollywood Legends" exhibit will showcase unique images of Hollywood stars such as James Dean, Frank Sinatra, Elizabeth Taylor, Marilyn Monroe and many more. "Hollywood Legends" will be on view through March.
Oscar Night® America, the Academy of Motion Picture Arts and Sciences' grassroots program, enables local charities to be the official hosts of glamorous Oscar® viewing parties across the country. Since its inception in 1994, Oscar Night® America has generated funding for a wide spectrum of charitable organizations — every cent staying within the community where it was raised, none of it going to the Academy. ONA, now in its second decade, has raised nearly $17.5 million for charities throughout the United States.
About Frank Worth
As a freelance photographer during Hollywood's Golden Age, Frank Worth befriended many of the stars he snapped at parties, on movie sets and at play. But he stored away many of his best shots as private mementos until the day he died. Only now are this largely unknown artist's remarkable images finally coming to light.
With his gregarious, big-hearted, outsize personality, photographer Frank Worth befriended Hollywood's biggest names in the 1940s and 1950s, gaining access to their most private moments. He bonded with James Dean over their mutual love of fast cars, hung out with Sinatra and the Rat Pack, took photos at Elizabeth Taylor's first wedding and charmed a young Marilyn Monroe.
He photographed the stars at work, at home and at play, from glitzy parties and awards shows to casual outings at Dodger Stadium and trips to Las Vegas. These weren't the cloak-and-dagger stalkerazzi photos of today; the stars enjoyed Worth's company and he had and instinctual knack for getting them to let their guards down, comfortable enough so that he could snap Rita Hayworth sunbathing in her garden or James Dean talking on the phone while taking a pee.
Worth amassed an intimate pictorial history of Hollywood in the boxes strewn about his cramped apartment in West Hollywood and that's where they remained, almost unseen by the public, until he died at age 77 in 2000, close to penniless.