Anchor Gallery: Mark Dion
Opening reception and dialogue between the artist and author Michael Grunwald
Thursday, March 10, 6-9pm
Dialogue begins 6:30pm (Seating is limited. First come, first seated.)
MAM members free ï Non-members $10
RSVP@miamiartmuseum.org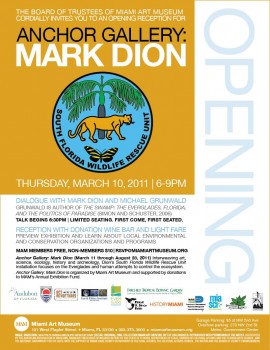 Anchor Gallery: Mark Dion, presenting the artist's complete South Florida Wildlife Rescue Unit, a large-scale installation focusing on the Everglades and human attempts to control the South Florida ecosystem, opens with a dialogue between the artist and Michael Grunwald, author of The Swamp: The Everglades, Florida, and the Politics of Paradise (Simon and Schuster, 2006). South Florida environmental and conservation organizations will be present during the opening reception with information about local programs.
Miami Art Museum Presents Anchor Gallery: Mark Dion
March 11 – August 28, 2011
Dion's South Florida Wildlife Rescue Unit Arrives on the Scene to "Save" Threatened Plant and Animal Species
Miami – February 17, 2010 – Miami Art Museum presents Mark Dion's complete South Florida Wildlife Rescue Unit, a large-scale installation that focuses on the Everglades and human attempts to control the South Florida ecosystem. The installation will be on view from March 11 through August 28, 2011 in the Anchor Gallery, an area of the Permanent Collection featuring regularly changing presentations of large scale works. The South Florida Wildlife Rescue Unit was originally commissioned by MAM in 2006 and subsequently acquired by the Museum.
Interweaving the diverse disciplines of art, science, ecology, history, and archeology, Dion's project consists of three parts, corresponding to the three major periods of Everglades history: exploration (late 1700s – mid 1800s); exploitation (mid-1800s – early 20th century); and preservation and restoration (mid-20th century – the present).
"Dion's installation tells the story of the various mentalities and motivations, both positive and negative, which have determined our history with Florida's wilderness," said Peter Boswell, Miami Art Museum assistant director for programs/senior curator. "The artist has said that his work is not really about nature, but about the consideration of ideas of nature. His project resonates with the environmental changes the South Florida region has undergone and the efforts that are being made to stem and counteract those changes."
The largest component of the installation features a facsimile of a vehicle and equipment belonging to an imaginary agency that rushes into vulnerable ecosystems to save threatened plants and animals: the South Florida Wildlife Rescue Unit. This portion of the installation serves as a tongue-in-cheek how-to guide for would-be conservationists, and ironically represents the dreams of policymakers' decisive actions, while also saluting past and current grassroots activism efforts.
The second portion of the installation is a series of reproductions of vintage photographs taken in the early decades of the 20th century by John Kunkel Small, a curator of the New York Botanical Garden who identified numerous plant species in the Everglades and authored a scathing book entitled From Eden to Sahara: Florida's Tragedy, which documented the changes wrought by dredging and draining the area.
The third portion is comprised of a vitrine containing artifacts, including a book of pressed specimens, the Herbarium Perrine (Marine Algae), purportedly belonging to 19th century botanist and early Florida settler Henry Perrine. Perrine was partly responsible for the overzealous introduction of foreign plant species to the area, which now poses one of the gravest threats to the ecosystem. Like the installation's vehicle, the vitrine and its components are a fiction invented by the artist.
Mark Dion was born in New Bedford, Massachusetts in 1961. His work deals with the probing of knowledge systems that underlie scientific research and museum displays, acquisitions, and classifications. He received an honorary Ph.D from the University of Hartford and is a recipient of the Larry Aldrich Foundation Award. Dion studied at the School of Visual Arts and the Whitney Museum of American Art Independent Study Program in New York, and the University of Hartford, Connecticut. Dion has showed in solo exhibitions at a number of venues, including the Aldrich Contemporary Art Museum, Ridgefield, Connecticut (2005), The Museum of Modern Art, New York (2004), and the University of Tokyo Museum, Tokyo (2002).
In conjunction with Miami Art Museum's Anchor Gallery: Mark Dion and the upcoming exhibition, The Wilderness, Miami Art Museum will partner with local environmental and conservation organizations to provide information on local initiatives, and special programs. For information on participating institutions, visit miamiartmuseum.org or email tbelcher@miamiartmuseum.org.
Exhibition organization and support
Anchor Gallery: Mark Dion is organized by Miami Art Museum and supported by donations to MAM's Annual Exhibition Fund.
Miami Art Museum, a modern and contemporary art museum located in downtown Miami, FL, is dedicated to collecting and exhibiting international art of the 20th and 21st centuries with an emphasis on the cultures of the Atlantic Rim—the Americas, Europe and Africa—from which the vast majority of Miami residents hail. Recently, Miami Art Museum has presented exhibitions of works by Janet Cardiff and George Bures Miller, Carlos Cruz-Diez, Quisqueya Henriquez, Guillermo Kuitca, Wifredo Lam, Susan Rothenberg and Yinka Shonibare, and its Permanent Collection includes works by Doug Aitken, José Bedia, Mark Dion, Marcel Duchamp, Felix Gonzalez-Torres, Ann Hamilton, Arturo Herrera, Alfredo Jaar, Sol LeWitt, Vik Muniz, Wangechi Mutu, Robert Rauschenberg, Gerhard Richter, James Rosenquist, Tomas Saraceno, Lorna Simpson and Rachel Whiteread. Miami Art Museum's educational programming currently reaches more than 30,000 people every year, with the largest art education program outside Miami-Dade County Public Schools. The new Miami Art Museum at Museum Park, designed by Herzog & de Meuron, is scheduled to open to the public in 2013. The new facility will provide room to showcase growing collections, expanded exhibition space to bring more world-class exhibitions to Miami-Dade County, and an educational complex. For more information about Miami Art Museum, visit miamiartmuseum.org or call 305.375.3000.