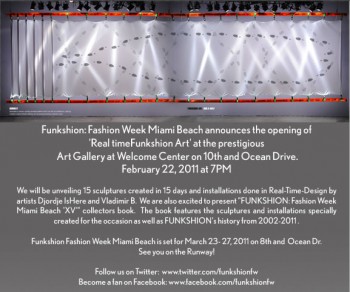 Tuesday, February 22nd, 2011 / 7PM – 8:30PM
The Art Gallery at the Miami Beach Welcome Center
10th and Ocean Drive
Miami Beach, FL
Private event:
MENTION SOUL OF MIAMI AT THE DOOR.
It is mini press conference, book launch and art work unveiling. FUNKSHION will also be receiving a proclamation from the City of Miami Beach for our work with Fashion and Tourism for Miami Beach.
Funkshion is launching the 70 page coffee table book FUNKSHION XV SEASONS and FUNKSHION inspired art work. Amazing book and some really amazing pieces. Funkshion would like to thank the Miami Design Preservation League that is hosting the event and will be the beneficiary charity for our events in March.
(Funkshion Dates this year are March 23, 24, 25 and 26. Tents built in Lummus Park on the beach off Ocean Drive. Details soon)