8th Annual Miccosukee Tribe of Indians of Florida Coral Gables Wine and Food Festival presented by MARTINI®.
Saturday, March 26th
Tickets can be purchased at www.coralgableswineandfood.com.
VIP Ticket $150 per person
Street Festival $65 per person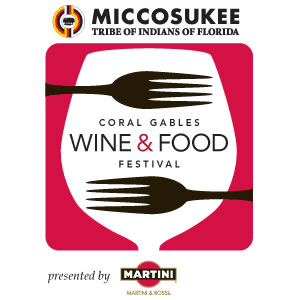 The Miccosukee Tribe Of Indians Of Florida Coral Gables Wine And Food Festival Gears Up For Another Sell-Out Event! Eat, Drink and Support the American Lung Association & The University of Miami Miller School of Medicine
2011. Discover fabulous new restaurants and exciting wines at this incredible event held in a brand new location in the heart of historic Coral Gables. Ponce De Leon Boulevard (between Miracle Mile & Almeria Ave.) will be opened to foot traffic only for a special evening of celebration and philanthropy. Superb food, exquisite wine, and live music from "People You Know" will be offered to raise funds for the American Lung Association and Pulmonary Research at The University of Miami Miller School of Medicine. New to the festival this year is the DEWAR'S® Momento D Lounge. The lounge brings a unique experience to life via a deejay, red carpet, and a step and repeat for photo opportunities. We invite you to let go and discover the meaning of "Gioia di Vivire" – Italian style and sophistication at the MARTINI® Terrazza. Enjoy delicious sparkling wine cocktails from MARTINI – Pure Joy from Italy.
Tickets VIP Ticket $150 per person The exclusive VIP Ticket entitles patrons to first access from 6:00 p.m. – 7:30 p.m. to MARTINI® Terrazza. Experience signature MARTINI® cocktails and a full spirit bar courtesy of Bacardi USA. A $150 donation includes the MARTINI® Terrazza experience, spirit bar, superb hors d'oeuvres by Miccosukee Resort & Gaming: Empeek-Cheke, Fine Dining Restaurant, a VIP gift bag (includes a special bottle from our sponsors) and admission to the street festival immediately following.
Street Festival $65 per person From 7:30p.m. – 10:00p.m. This ticket includes sampling from over 30 of the areas best restaurants paired with wines from around the world at more than 25 tables. Included in this ticket is the DEWAR'S® Momento D Lounge & MARTINI® Terrazza (this will re-open for street festival ticket holders by 7:45p.m.).
* All tickets can be purchased at www.coralgableswineandfood.com or for additional information call: (954) 524-4657.
Complementing the cuisine Premier Beverage will have wines from around the globe at more than 25 tables. Enjoy popular varietals and experiment with the newest and hottest grapes emerging onto the market. Each table will offer a variety of labels and winery representatives will be on hand to offer advice, tips and answer any questions. The Wine & Spirits
The MARTINI®Terrazza will open by 7:45pm to all ticket holders. In the era of glittering celebrity and smooth style, the MARTINI® Terrazza was a place for the famous and influential to meet and toast one another. Come and join us for a sip of MARTINI and a taste of true glamour in the MARTINI® Terrazza at the Festival.
The DEWAR'S® Momento D Lounge is a special area that takes your experience at the festival one step further by offering guests a comfortable exclusive lounge space to enjoy with friends while sharing DEWAR'S® signature cocktails. A perfect place to enjoy DEWAR'S®, one of the most awarded Scotch Whiskies in the world.®
Crown Wine and Spirits is the exclusive festival retailer giving patrons the chance to purchase wines sampled on the street and the latest wine accessories. Only festival participants will be extended this wonderful opportunity to receive major discounted prices!
There will be signature chef selections available to sample from some fabulous local restaurants. As of press time restaurants include: Anacapri on Ponce, Barrio Latino, Benihana, Blue Martini, BonBon Café and Patisserie, Chilorio's Very Mexican, Donut Divas & Fun Foods, Fleming's Prime Steakhouse & Wine Bar, Giardino Gourmet Salads, Gusto Fino Italian Deli, iheartoliveoil.com, Il Grissino, La Confradia Restaurant, La Marea, Liberty Caffé-Coral Gables Country Club, Miccosukee Resort & Gaming: Empeek-Cheke Fine Dining Restaurant, Miller's Ale House Coral Gables, Norman's 180, Ortanique on the Mile, Panera Bread, Pardo's Peruvian Cuisine, Por Fin Restaurant & Lounge, Randazzo's Little Italy, Red Koi Thai and Sushi Lounge, Seasons 52, Talavera Restaurant, Tarpon Bend, The Bar, & Toss Catering The Food
Proceeds benefit the American Lung Association's lung health research, education, and patient assistance programs and the International Bronchitis Center at The University of Miami Miller School of Medicine. "I am delighted to see this festival has become a signature event in South Florida," said festival Honorary Chairman Marc Buoniconti, Development Advisor for the International Bronchitis Center and President for the Miami Project to Cure Paralysis. "We are thrilled to have such strong community support and this event will help us in our mission to raise money for a very important cause," Buoniconti added. The Beneficiaries
The Title Sponsor is the Miccosukee Tribe of Indians of Florida. The Presenting Sponsor is MARTINI®. The Exclusive Festival Retailer is Crown Wine and Spirits Additional Sponsors include: Premier Beverage Company, DEWAR'S ®, "Cypress Financial Group – an office of MetLife", Mercedes-Benz of Coral Gables, The Kirk Foundation, NBC-6, Merchant Graphics, American Airlines, Buoniconti Entertainment LLC, South Florida Photo, Around Town Magazine, Boca Raton Magazine, Florida Travel & Life, In the Gables Magazine, ItsInMiami.Com, InVinoMiami.Com, Ocean Drive Magazine, Panorama Latino Magazine, SoulofMiami.Org, WHATMIAMI.Com, & Easy 93.1. The Sponsors
Beginning our second century The American Lung Association is the oldest not-for-profit health agency in America. The American Lung Association in Florida, South Area serves three counties including Miami-Dade, Broward, and Monroe. About America Lung Association
Its mission is to prevent lung disease and promote lung health in South Florida through patient services, programs, public education and research. In addition to helping people with asthma, American Lung Association strives to help those individuals suffering from lung cancer, emphysema, chronic bronchitis, TB, pneumonia, influenza, occupational lung problems, respiratory allergies, lung problems caused by air pollution and infant pulmonary disorders.
About The Miccosukee Tribe of Indians of Florida The Miccosukee Tribe of Indians is a federally recognized Native American Tribe exercising sovereign powers of self-governance over 200,000 acres of tribal lands. The Tribe owns and operates several successful enterprises, including Miccosukee Resort & Gaming, a 302- room hotel and gaming facility featuring 1,800 video machines, high stakes bingo and poker; Miccosukee Indian Village & Gift Shop; Miccosukee Airboat Rides and Miccosukee Golf & Country Club – home of the 2010 Miccosukee Championship; a PGA Nationwide Tour event.