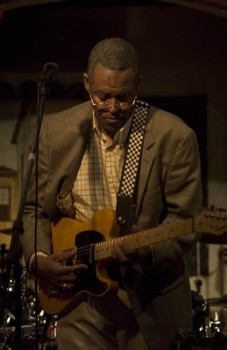 KCC Productions and the Van Dyke Cafe present Big Poppa E and the E Band, Thursday, February 17, at 9 PM. The Van Dyke is located at 846 Lincoln Road, South Beach. For more information, call 305-534-3600 or visit thevandykecafe.com.
Born in 1948 and now in his third decade as a professional performing artist, E continues to nurture his passion for the Blues. Growing up in New York, he discovered his purpose at the age of 13, when he was drawn to the sounds of Acoustic Blues, and got his first harmonica when he discovered Sonny Terry and Brownie McGhee. In the 70s, 80s and 90s, he developed his singer/songwriting talents, as well as an aptitude for playing other instruments beautifully… His specialty was the blues harp. He established himself as a ground-breaking harmonica player, and became a percussionist with Hodges, James and Smith (back in the early 70s) as well as a studio musician with Bolic Sound Studios, playing behind Ike and Tina Turner. He also played percussions on Sussex Records with Bobbi Hall behind Bill Withers in 1971 through 1974. In the 80s, he moved to Chicago where he played with the likes of John Prine, Jo Mapes, and Joseph Jarman.
While family and other commitments would interrupt his career, E always returned to his roots in blues, and 2000 saw the release of his second album, "The First Time Out", an extraordinary recording that was an eclectic mix of ten original compositions comprising Blues, R&B, Jazz, Delta and Gospel. In 2002, E hit his stride, adding his exceptional harmonica skills and powerful vocals to the mix. He delivers charismatic, compelling, and passionate performances that are charged with emotion and filled with his authentic signature style. Always experimenting with new sounds, he sometimes makes bold, daring renditions of obscure tunes of legendary icons such as Robert Johnson, Howlin' Wolf, Muddy Waters and John Lee Hooker, adding his unique spin to them.
2006 was a creative year for E, what with three albums released and building his own record label, Black Owl Music. While his albums showcase the sensual range of his vocals and the use of his voice as an incredibly multi-faceted instrument, it is his haunting harp signature style that captivates and inspires his audience. "Mississippi Reminiscence" is the most personal of his work, and "Five Long Years: A Tribute To Carey Bell" has been hailed as sheer unadulterated blues.