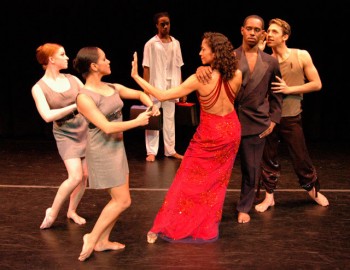 DANCE NOW! presents: Six Characters
February 26 at 8:00 p.m. and February 27 at 3:00 p.m.
Colony Theater
1040 Lincoln Rd
Miami Beach, FL 33139
Admission:
Tickets: $35/$30/$15/$10
Colony Box Office: 305.674.1040 x 1
Ticketmaster: 800.745.3000
Tickets also available online at www.dancenowmiami.org via Paypal
A Dance Murder Mystery inspired by the modernist Pirandello theater classic "Six Characters in Search of an Author", and the South Florida premiere of works by internationally renowned guest choreographer Tandy Beal.
February 26 at 8:00 p.m. and February 27 at 3:00 p.m.
Dance Now's 11th season encounters the theatrical, as its company of fabulous dancers "jete and pirouette" into the Colony Theater with a world premiere created jointly by co-artistic directors Hannah Baumgarten and Diego Salterini – for a remix of Luigi Pirandello's modern theater classic Six Characters in Search of an Author.
The program's theatricality continues with DNE! presenting a South Florida premiere of selected work from the repertoire of noted West Coast choreographer Tandy Beal. Beal is known for her imagination and humor, her braiding together of dance, circus, and theater – and her diverse performance trajectory has recently included international touring with singer Bobby McFerrin and films with Tim Burton. Regarding Six Characters … Salterini noted: "What attracted me to this play is the premise that, in dance (as well as theater), characters exist. They can only be who they are and nothing else. In contrast, the performers are not as real as the characters. Performers play many parts – they can play 1,000 characters – or one – or no-one." This is Pirandello's view, as present in the play." Directors Salterini and Baumgarten have added their own twist to the classic play: do we experience it today as a Reality Show? "Audiences will have to see for the mselves how we have transformed this play" says Baumgarten.
The mastery of theatrical dance also underlies the attraction of DNE to the work of Tandy Beal. Beal's work in the concert includes a suite of dances from a larger work "Time Falling Bodies Take to Light" (1987) as well as at least two of Tandy Beal's iconic solo works: the adagio "Heisenberg's Principle," (1979); with music by long-time partner Jon Scoville and, "Mysterious Barricades (or the plot without thickener)" music by Couperin (1981). These pieces capture both Beal's craftwork, and her delicate and theatrical humor – humor at no one's expense and not requiring the audience to be dance "insiders" – a charge of Dance Now! in their mission to reach new audiences. Each features a unique yet recognizable theatrical character or situation.
"Heisenberg's Principle" features a singular three-foot helium-filled white balloon that blends the poetical and the scientific, and, as well, magically weaves together circus, dance, and light. It is a duet between a dancer and chance. "Mysterious Barricades, or the Plot without Thickener" captures the self-embarrassment that results from waiting, and the joyous moment of release. The dancer discovers how to make fun of herself. Baumgarten and Salterini also share with Beal a commitment to making poetic narrative central to their work – theatrical, non-realistic but yet revealing of real-life situations – plus an understanding that dance-theater can best be performed by dancers. Baumgarten says: "I also saw in Beal's work that theatricality serves as a vehicle to connect more directly with diverse audiences – an understanding that we at DNE also hold.
And there is a personal dimension: Baumgarten grew up in Santa Cruz, CA, the home of Beal's company. During her formative years, she saw Tandy Beal & Company performances, often many times over, and was enthralled with Tandy's elegance, wit, musical sensibilities, and theatrical ingenuity. Though Baumgarten's primary training focused on ballet technique – a world vastly different than Beal's – as she matured in Juilliard as a modern dance choreographer, and as she developed as a community-based company director, she reflected on this earlier experience. This opportunity for DNE is particularly significant because it directly connects generations of dance both in terms of aesthetic compatibility and tradition. As in the past, dance is often best transmitted when there is an element of trust that helps maintain the integrity as well as the spirit of the work for future generations and Beal will be in South Florida in January to restage the work, give a master class and participate in an open forum on Dance and Community Building.
This is not the first time a deeply rooted member of the dance community has set a work on DNE. In 2009, Tauna Hunter created a work for the ensemble, and in 2002 Michael Uthoff set three of his historically important works on the company and created three new works for them. DNE toured these pieces, along with Uthoff's performance group, in Arizona, and included them in a number of mainstage and community performances. To date, Uthoff remains an Artistic Advisor to DNE. Who knows what role Beal may continue to play with this growing organization?