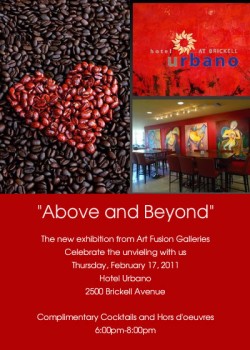 "Above & Beyond" Art Collection Unveiling & Reception
Thursday, February 17, 2011, 6PM
Hotel Urbano
2500 Brickell Avenue, Miami, FL 33139
www.hotelurbano.com
Hotel Urbano & Art Fusion Galleries have once again joined creative forces to showcase and host their new collection of spectacular works of art.
Join us to celebrate the unveiling of this new art exhibition on Thursday, February 17, 2011 at the Hotel Urbano. "Above and Beyond" displays a variety of contemporary art work which are sure to feature something for everyone. Complimentary cocktails will be served from 6:00 pm – 8:00 pm.
In addition to pleasing the palates of art lovers, the Bistro Urbano & Bar's Executive Chef Anthony Velazquez has created a dynamic menu to compliment the event.
Hotel Urbano also features the Dali, Picasso and Van Gogh Conference Rooms which provide a warm, art filled back drop for private or corporate functions. Or for your perfect weekend getaway, join us poolside with your favorite specialty drink, unwind in the hot tropical sun and enjoy all the flavors of Miami and Hotel Urbano