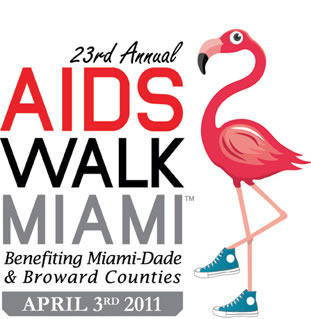 23rd Annual AIDS Walk Miami
Sunday, April 3, 2011
Miami Beach Convention Center
Registration begins at 8:00 AM
23rd Annual AIDS `Walk MiamiTM, a 5K (3.1 mile) walk-a-thon fundraiser benefiting Care Resource, South Florida's oldest and largest HIV/AIDS community organization providing Primary Medical Care, Dental, Psychosocial, Case Management, Outreach and Prevention, Food Bank, Home Delivered Meals and Nutritional counseling and education to over 15,000 residents living in Miami-Dade and Broward Counties who are either affected or infected with HIV/AIDS.
Take out your sneakers South Florida and get ready to Walk – Run – Blade for a cure. The 23rd Annual AIDS Walk Miami returns to it's original schedule on Sunday morning, April 3rd with registration beginning at 8am at the the Miami Beach Convention Center.
Even after twenty-nine years of HIV/AIDS research, education and countless hours of battling this terrible disease, our community is still becoming infected at alarming rates. Sadly Miami-Dade and Broward Counties now have the highest new AIDS cases per capita in the US.
Sign up today and join your family, friends and co-workers for AIDS Walk Miami, a 5K walk-a-thon starting at 9:00 AM from the Miami Beach Convention Center, taking a scenic route through the commercial heart of Miami Beach, along the ocean, down Lincoln Road and ending at the Miami Beach Botanical Gardens for the post-walk celebration.