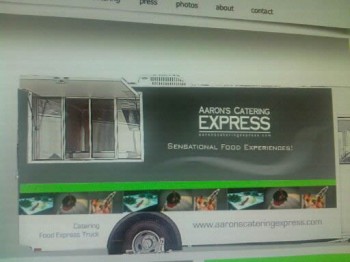 High-End Caterer To Launch Gourmet Food Truck
Chef Brian Aaron, Creator of Miami-based Aaron's Catering, announced today plans for Aaron's Catering Express. The latest venture for the 30-year-old chef will compliment the burgeoning Miami Food Truck Phenomenon that has become mobile gourmet.
"I wanted to take the experience of Aaron's Catering mobile," says Aaron. "ACE (Aaron's Catering Express) is modern, fresh and most importantly—affordable.
The 26-foot truck will feature many of the catering company's signature dishes with a twist. Blending American and South American flavors, items will range from Nitro Dip N Dots ($2) using Liquid Nitrogen, Pulled Short Rib ($6), Queso Frito ($5), Yucca Bites ($5) and a variety of signature non-alcoholic beverages and Artesian waters like Mint Cucumber.
Aaron's Catering Express will also boast a 40-inch plasma television and state of the art sound system on its façade that will show sporting events and live social media feeds.
"Social media is a definitely not a trend! " comments Aaron, who plans to attract much of his patrons via Twitter and Facebook. "We will give updates on our location via twitter, as well as take requests on where to serve up the experience next."
Aaron's Catering Express will operate under the @aaronscatering Twitter username with the hash tag #aaronscateringexpress. The new company can also be found at www.facebook/aaronscateringexpress.
Aaron's Catering Express is slated for debut on February 25TH (location TBD) and also during the 10th Annual Food Network South Beach Wine & Food Festival's Grand Tasting Village on February 26th. The mobile truck will be operational 7 days a week at various Miami locations including Tamiami (12795 SW 137 Ave), Wynwood (around NW 22nd Street), and Bayfont Park. Additionally, the truck's façade will be totally customizable and available for private events.
Aaron's Catering is located at 5451 NW 72nd Avenue, Miami, FL 33166. Founded by celebrity chef Brian Aaron in 2004, the company provides innovative cuisine and an unmatched level of service. Aaron's also boasts a Paellas, Traditional, Kosher, Mixology and Staffing division under its full-service umbrella.