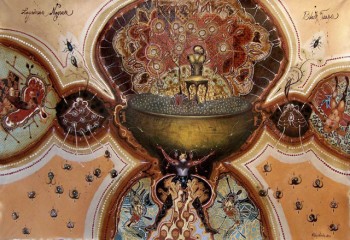 Accent Alternative Art Space presents "TIME: A Personal Labyrinth"
The protean compositions of painter Ernesto Capdevila
Opening reception: Friday, February 11, 2011. 7:00 to 10:00 p.m.
Accent Alternative Art Space
4841 SW 75th Avenue
Miami, FL 33155
Bird Road Art Walk Opening:
Saturday, February 19 , 2011. 7:00 to 10:00 p.m.
Dates: February 11 to March 12, 2011
Admission: Free
For lovers of Russian literature, Ernesto Capdevila's exquisitely detailed compositions, with their pullulating casts of fairies, insects, zoomorphic forms and brocaded backgrounds, should feel like very familiar territory. "In each of these obsessive paintings, one may visit a tiny universe, directly connected to the hand of an artist with a remarkable gift" – says exhibit curator Silvia Dorfsman.
A graduate of San Alejandro Academy of Fine Arts, Capdevila was born in 1970 in Havana Cuba and now works and lives in Miami, Florida. He has widely exhibited his work in the U.S., Europe, Latin America, and the Caribbean – with over thirty individual shows and group exhibitions to his credit.
Come prepared to be deceived; be blinded by shadows, and above all, be willing to stare; these works require TIME.
Accent Alternative Art Space is a not-for-profit art initiative by advertising agency Accentmarketing. Launched in 2010, this gallery space is dedicated to non-commercially driven artwork, by emerging and mid-career artists. Essentially, AAAS wants to develop ideas that are outside of the mainstream scope of Miami commercial art galleries while harnessing local talent and culture. To learn more about the not-for-profit art gallery visit www.facebook.com/accentart
For more information about local openings and events, please visit www.miamiartguide.com
Ernesto Capdevila. Lagrimas negras. Mixed media on canvas. 55″ x 52″. 2010