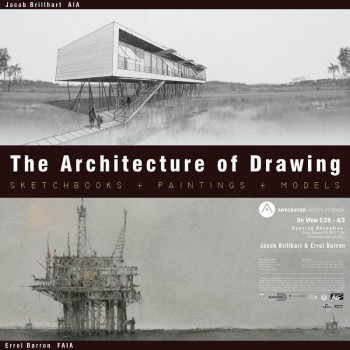 Artcenter Deconstructs Architecture:
The Roles Of Drawing And Painting In The Digital Age
Masters Jacob Brillhart and Errol Barron Exhibit Two Generations of Works
Friday, February 25 at 7:00 p.m.
ArtCenter/South Florida
800 Lincoln Road at Meridian
Miami Beach, FL
ArtCenter/South Florida is proud to present The Architecture of Drawing, an exhibition illustrating the role of hand-drawing and painting in the digital age. Curated from more than 100 sketch books of two artists from two generations, Jacob Brillhart AIA and Errol Barron FAIA, this show examines the tradition of drawing as both a recording device and a cognitive or brainstorming tool used in design. The opening reception will take place on Friday, February 25 at 7:00 p.m. at ArtCenter/South Florida (800 Lincoln Road at Meridian, Miami Beach), and the exhibit will remain on view through April 3, 2011, free and open to the public. For more information please call 305.674.8278 or visit the website at www.artcentersf.org.
"The Architecture of Drawing is an important show because it gives viewers the opportunity to see how traditional fine art skills can enhance and complement the use of today's cutting edge technology," said Jeremy Chestler, ArtCenter's executive director. "With great architecture and design happening around us, this show offers a window into the creative processes that often take place behind the scenes and when developing concepts."
Jacob Brillhart and Errol Barron, who both respectively teach drawing and design at University of Miami and Tulane University, believe that drawings done digitally and by hand are not mutually exclusive activities but deeply complementary and symbiotic. Their joint exhibition of how observation influences design will be comprised of sketchbooks, paintings, design drawings and architectural models that explore the interrelationships of drawing, painting, and architecture.
Jacob Brillhart, AIA
Jacob Brillhart has built his career as an architect, painter and professor of architecture. He is currently a full-time Lecturer at the University of Miami School of Architecture where he has taught all levels of Design Studio, Freehand Drawing and Mechanical Drawing. Brillhart is also an integral teacher of the Rome program and leads students in drawing and design studios throughout Europe, where he continually conducts drawing research.
In the Spring of 2010, Brillhart served as the Favrot Visiting Professor at the Tulane School of Architecture. Having earned his Bachelor's of Architecture from Tulane University and his Masters in Advanced Architectural Design from Columbia University, Brillhart has been influenced by both teaching traditions, and his architectural practice, Jacob Brillhart Architect, P.A., is formed around the interchange of research, exploration and progressive design. A LEED AP, he is also engaged in sustainable building practices and was honored with the 2009 AIA Miami Design Merit Award for his "Mechanical House."
In 2010, Brillhart was nominated as a finalist for the Rome Prize in Architecture; he was also a Gabriel Prize finalist in 2006 and 2007 consecutively, and received first prize in the 2006 Miami Beach Life Guard Tower Design Competition for which he was featured in The New York Times. In 2009, Brillhart participated in a joint exhibition entitled Visual Thinking in the Digital Age at the University of Miami.
Errol Barron, FAIA
Errol Barron is a senior member of the faculty and the Favrot Professor of Architecture at the Tulane School of Architecture. He is a graduate of Tulane and Yale Universities and has taught a wide range of courses including Theory, Design Studio, Professional Concerns, Introduction to Architecture for Non-Majors and Drawing.
An acting principle of Barron/Toups Architects, his work has been published widely and is recognized for design excellence. A number of his award-winning projects include the Ogden Museum of Southern Art, the Oliver St. Pe' Center for the Blind at the University of New Orleans, and St. James Church, which was awarded a national design award by the American Institute of Architecture.
While maintaining a professional practice and bringing the direct experience of the office to the school, Barron has also had a separate career as a painter. This interest in drawing, painting and its interrelationship with the design process has become more compelling in the current digital world. His work has been exhibited at many institutions, including a collection which toured from 2004 to 2006 in the Ogden Museum of Southern Art, The Alexandria Museum of Art, The Bakersfield (Ca.) Museum of Art, the Louisiana State University Architectural Gallery and the University of Tennessee Architecture gallery.
The Louisiana Endowment of the Humanities awarded Barron a grant in 2004 for the publication of the book, "Observations – Drawings, Paintings and Architecture of Errol Barron". In 1994, he was made a Fellow in the American Institute of Architects, and was also the winner of the Gabriel Prize, awarded by the Western European Architecture Foundation to study and draw French architecture.
About ArtCenter/South Florida
Established in 1984, ArtCenter/South Florida (located at 800, 810 and 924 Lincoln Road, Miami Beach) is a non-profit 501(C)(3) organization that provides subsidized studio and exhibition space as well as teaching opportunities for emerging and career artists in their facilities at 800, 810 and 924 Lincoln Road, Miami Beach. The mission of the ArtCenter is to advance the knowledge and practice of contemporary visual arts and culture in South Florida while providing affordable programming and work-space for professional artists. ArtCenter/South Florida is open Tuesday through Thursday from 12:00 p.m. until 10:00 p.m. and Friday through Sunday from 12:00 p.m. until 11:00 p.m. For further information please call 305.674.8278 or visit the website at www.artcentersf.org.
Exhibitions and programs at ArtCenter/South Florida are made possible through grants from the Miami-Dade County Department of cultural Affairs, the Cultural Affairs council, the Miami-Dade mayor and Board of County Commissioners; The Children's Trust; the City of Miami Beach Cultural Arts Council; the City of Miami Beach Community Development Block Grant Program; the Miami Beach Mayor and City Commissioners; the State of Florida, Florida Department of State, Division of Cultural Affairs, and the Florida Arts Council; the Dade Community Foundation and the Chestler Family Fund at Dade Community Foundation; ArtéCity; Target and Walgreens.