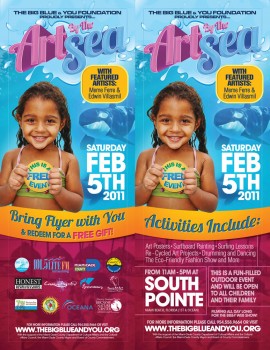 Saturday, February 5 · 11:00am – 5:00pm
South Pointe
Ocean Drive & 1st Street (On the sand)
Miami Beach, FL
This is a fun-filled, outdoor art event open to children of all ages and their families. Focused on using ART as a tool to teach young people about the majesty of the ocean and other marine environments. Brought to you by the Big Blue & You Foundation, Streetwaves, Creative Arts Ed and Miami-Dade County (With the support of Miami-Dade County Department of Cultural Affairs and the Cultural Affairs Council, the Miami-Dade County Mayor and Board of County Commissioners).