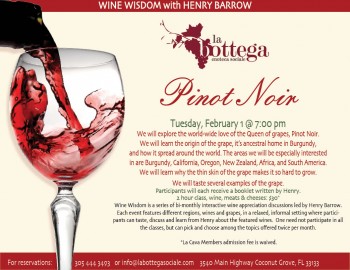 La Bottega presents Wine Wisdom with Henry Barrow
Tuesday, February 1 @ 7:00 pm
3540 Main Highway
Coconut Grove, FL 33133
2 hour class, wine, meats & cheeses: $30*
RSVP to info@labottegasociale.com
We will explore the world-wide love of the Queen of grapes, Pinot Noir.
We will learn the origin of the grape, it's ancestral home in Burgundy, and how it spread around the world. The areas we will be especially interested in are Burgundy, California, Oregon, New Zealand, Africa, and South America. We will learn why the thin skin of the grape makes it so hard to grow. We will taste several examples of the grape.
Participants will each receive a booklet written by Henry.
Wine Wisdom is a series of bi-monthly interactive wine appreciation discussions led by Henry Barrow. Each event features different regions, wines and grapes, in a relaxed, informal setting where participants can taste, discuss and learn from Henry about the featured wines. One need not participate in all the classes, but can pick and choose among the topics offered twice per month.
*La Cava Members admission fee is waived.