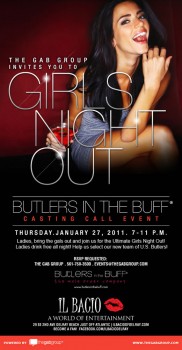 Thursday night, Jan. 27, from 7 to 11 p.m.
Il Bacio Restaurant & Lounge
29 SE 2nd Avenue
Just off of Atlantic Avenue
Delray Beach
www.ilbacioofdelray.com
Calling all ladies! Bring the gals and join the girls of Gab this Thursday night, Jan. 27, from 7 to 11 p.m. for the Ultimate 'Girls Night Out' at Il Bacio Restaurant & Lounge in Delray Beach!
Enjoy a complimentary cover when you RSVP in advance, and FREE drinks for ladies from 7 to 11 p.m.
Ladies, we need your help in selecting the official U.S. team of gorgeous and charming Butlers in the Buff. These highly trained professional 'experts of etiquette' are part of a new U.K. event staffing sensation now launching exclusively to South Florida and the U.S.! Check out www.butlersinthebuff.com for more details.
Call all your girls and come to Il Bacio this Thursday night to be part of the new event staffing craze that's set to take over the States!
Your advance RSVP is requested. Please e-mail events@thegabgroup.com to confirm your attendance and specify this event in the subject.