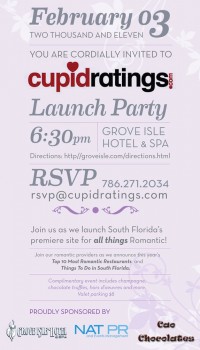 Cupidratings Launch Event
Thursday, February 3 at 6:30 p.m.
Grove Isle Hotel & Spa
4 Grove Isle Drive
Coconut Grove, FL
www.cupidratings.com
Just in time for Valentine's Day, Cupidratings will unveil cupidratings.com, South Florida's premiere site for all things romantic. Alongside their romantic providers, Cupidratings will announce its much anticipated top 10 most romantic restaurants and things to do in South Florida at a launch event on Thursday, February 3, 2011 at Grove Isle Hotel & Spa, located at 4 Grove Isle Drive at 6:30 p.m.
Guests will enjoy complimentary hors d'oeuvres, champagne and chocolate covered strawberries courtesy of Grove Isle Hotel & Spa; chocolate truffles from Cao Chocolates and sweet treats by K's Designz.
Cupidratings allows users to create a customized romantic package based on experiences and ratings from other users. The site is designed to make romance easier by providing users with insight into how to plan a romantic experience. Cupidratings will be the worldwide leader in romance through media, public and online platforms.
"Cupidratings' mission is to be the most comprehensive resource for all things romantic," says Founder, Sean Kramer. "It'll enable our users to easily plan, create and fulfill their romantic experiences."
Cupidratings is the only place for romance. Whether its finding the most romantic restaurant, venue, vacation spot or gift idea, the site's goal is to help users plan a memorable, romantic experience. It doesn't matter if you're experienced in the art of romance or a novice, Cupidratings will help you plan any type of romantic experience you're looking to create – all in one site.