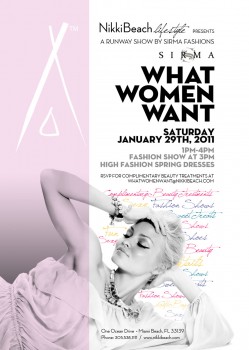 Saturday, January 29 from 1pm-4pm
Nikki Beach MiamiOne Ocean Drive
Miami, Florida 33139
Nikki Beach, the premier global luxury lifestyle brand, is thrilled to announce that What Women Want returns to 2011! The Miami Beach location will present its signature fashion series on Saturday, January 29 from 1pm-4pm. In what will be the most anticipated ladies afternoon out in Miami, this glamorous event, featuring a dazzling runway show, is centered around beauty, sweets, and shopping… the ultimate in pampering and indulgence for women.
Sip champagne or a specialty Nikki Beach cocktail, savor delectable sweet treats by Misha's Cupcakes, and an elegant fashion show presenting noted designer SIRMA by Selen Fashion's latest collection. Spa e will provide complimentary warm peach-infused paraffin hand treatments to soothe guests' delicate digits as well as complimentary eye brow shaping and tinting for those needing a touch up. Ladies will also enjoy complimentary express manis and makeup by Chez Badeaux Salon for wherever the night should take them. Dazzling Nikki Beach entertainment is sure to wow the crowd with a special show opener, and DJ's spinning the hottest beats. A full lunch menu is available for those guests seeking to complete their Nikki Beach experience.
Nikki Beach partners for What Women Want include Safar Salon transforming the models for the fashion show into runway ready, Prestige Imports presenting Lamborghini Miami, Misha's Cupcakes, and Chez Badeaux Salon, to name a few. What Women Want is a not to be missed event for any woman in the know in Miami seeking a sultry afternoon of pampering and lounging. What Women Want debut's on Saturday, January 29, 2011 from 1:00 PM – 4:00 PM. The runway show by Selen Fashions will begin at 3:00 PM. For more information or to RSVP, please contact Lisa Hollister, or call 305-538-1111.