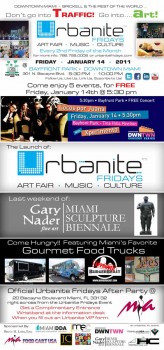 Friday, January 14th, 5:30pm
Bayfront Park, Downtown Miami
301 North Biscayne Blvd. Miami, FL 33132
The DWNTWN Miami Concert Series has lined up a night of Latin Beats with Grammy nominated Xperimento and 2x Grammy nominated Locos Por Juana!
Get down to Bayfront Park tomorrow, Friday, January 14th! The show starts at 5:30pm and don't forget to bring your dancing shoes…these two bands will have you movin' and groovin' all night long!
Don't forget to bring your friends either:
You could be a winner in the easiest contest you'll ever enter…
Become a DWNTWN Miami Concert Series head groupie by bringing 4 friends with you to the show this Friday. When you group is all together check in with Ms.Yami at the DDA Booth and as head groupie you'll get to pick out a premium SWAG item from our DWNTWN Collection for yourself. Choices include a super-fly DWNTWN umbrella, a DWNTWN backpack (handy for carrying snacks and wine to the concert), or our super-soft-fleece DWNTWN blanket (perfect for picnics at Bayfront Park) – and Ms. Yami will enter your group of groupies into a special drawing for brunch for you and your 4 friends! Questions? Click Here!
Don't go into Traffic! Go into…Art!
Come Celebrate Art, Music and Culture at the first Urbanite Friday in Bayfront Park, Friday, January 14th from 5:30-10pm.
South Florida is in the middle of an Art and Cultural explosion and Downtown Miami is the epicenter. Enter Urbanite Fridays, a new celebration of Art, Music, and Culture in Downtown Miami.