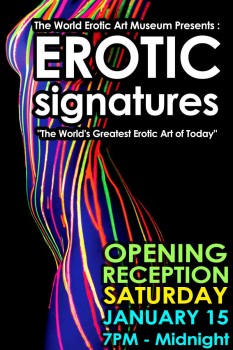 Opening Reception: Saturday, January 15, 2011; 7pm – 10pm
1205 Washington Avenue, Miami Beach, FL 33139
Erotic Signature, an established and well respected organization that has been helping artists to promote and market their work to large mainstream audiences brings its Annual International Exhibition Tour "ARTundressed" to the World Erotic Art Museum.
The ARTundressed Exhibition is a celebration featuring a unique opportunity to experience sensuality in all aspects of visual arts with a collection of beautiful artworks from some of the world's top visual artists.
Enjoy the complimentary reception with your paid admission to the WEAM.
Free for Members, $15 all others.