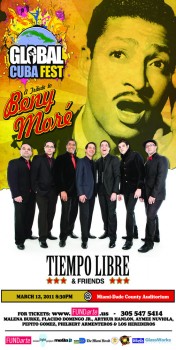 Global Cuba Fest kicks off with A Tribute to Benny Moré by Tiempo Libre and Friends
Saturday, March 12, 8.30 p.m.
Miami-Dade County Auditorium
2901 W. Flagler St., Miami
Buy Now.
$35, $45 and $65
$5 discount for students and seniors (65+)
A limited number of $100 Tickets is available for VIPs
Tickets by phone: 305. 358. 5885
www.fundarte.us
Miami has earned a well-deserved reputation as a rich pool of talent in the area of contemporary Cuban music. This music grows from a rich cultural tradition of hybrid experimentation that has been intrinsic to the nature of Cuban music since its earliest expressions. FUNDarte is proud to celebrate this tradition by launching this year's celebrated Global Cuba Fest series with new work from three-time Grammy-nominee Tiempo Libre, in A Tribute to Benny Moré, a concert to be co-presented with the Miami-Dade County Auditorium on March 12, 2011 at 8.30 p.m.
Tiempo Libre is one the hottest young Latin bands today. Equally at home in concert halls, jazz clubs and dance venues, the Miami-based band has become known for their incendiary, joyful performances of timba – an irresistible, dance-inducing mix of high-voltage Latin jazz and the seductive rhythms of son – true modern heirs to the rich tradition of the music of their native Cuba.
This dynamic, contemporary band of Cuban musicians is led by piano virtuoso Jorge Gomez and comprised of talented musicians who were all classically trained at La ENA, Cuba's premiere musical conservatory. During this exciting evening, these musicians will arrange traditional music by the legendary Cuban songwriter and vocalist Benny Moré into the contemporary vocabulary of today's World Cuban Music. This evening-length presentation will feature a lineup of stellar Miami-based Cuban musicians including the legendary Malena Burque and several others.
A Tribute to Benny Moré celebrates the legendary repertoire of the greatest Cuban popular singer of all time. Moré was gifted with a melodic and fluid tenor voice, which he colored and phrased with great expressivity. Known for his innate musicality and unforgettable stage presence, Moré was a master of most genres of Cuban music, such as son montuno, guaracha, mambo and bolero, and has been a powerful inspiration for many contemporary musicians, hundreds of whom have covered many of his songs. In particular, his wide range of musical genres made him an exceptional vocalist, as it is unusual for a singer to be equally proficient at both the fast-paced rhythms such as guaracha, and the slower romantic rhythms such as the bolero. Moré also founded and led Cuba's leading orquesta, or big band, of the 1950s, until his death in 1963. Beloved across political boundaries, and admired throughout the Cuban Diaspora, Benny Moré is a musical genius whose name is synonymous with Cuba's rich and varied musical heritage.
Global Cuba Fest is a yearly series of concerts presented by FUNDarte and Miami Light Project that characterizes the organizations' cultural mission by presenting a variety of Cuban artists and raising local and global awareness of the diversity and scope of their performative works produced both on and off the island. Building on FUNDarte's past successes with yearly presentations of artists from the island and the Cuban Diaspora, the upcoming Fourth Edition of Global Cuba Fest promises to expand this highly successful series by presenting works that celebrate the hybrid outgrowths of Cuban creative expression as it exists in Cuba and around the world. The focal point of Global Cuba Fest is to present works that maintain a solid Cuban identity, even while responding to a multitude of global influences by artists living away from the island, and to explore the directions that artists on the island have taken in order to make their creative offerings more accessible to a global audience.
Other upcoming events in the Global Cuba Fest series include Los Muñequitos de Matanzas, on April 15, 2011 at the Adrienne Arsht Center, and Osdalgia, followed by Doble Filo, on May 19 and 20 at The Light Box at Goldman Warehouse. Other upcoming events will be announced shortly.
FUNDarte is a multidisciplinary non-profit organization dedicated to producing, presenting, and promoting music, theater, dance, film and visual arts that speak to Miami's diverse cultures, with a special emphasis on artists from Latin America, the Caribbean and Spain. Project and organizational support for Global Cuba Fest comes in part from Miami Light Project, Miami-Dade County Department of Parks and Recreation, Miami-Dade County Department of Cultural Affairs and the Mayor and Board of County Commissioners.