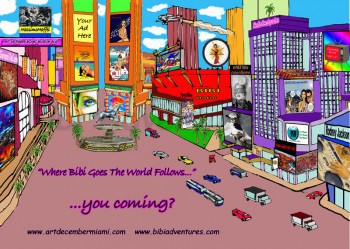 Become your own comic book character!
The Adventures of Bibi & Friends Announces Special Miami & New York Issue
Advertisers interested in being a part of this special issue should reserve their space now. Please visit the website and click advertising on the menu bar!
Advertising deadline: February 25, 2011.
Comic character reservation deadline: February 18, 2011).
Celebrated "Emerging Creative Minds You Need To Know For 2011" artist & publisher Brigitte Andrade, invites you to become a "Piece of Art or a Bibi Sponsor". "The Adventures of Bibi & Friends is offering an opportunity for your businesses and for scensters, fashionistas & local celebrities to become an animated character and appear in the comic guide book as themselves.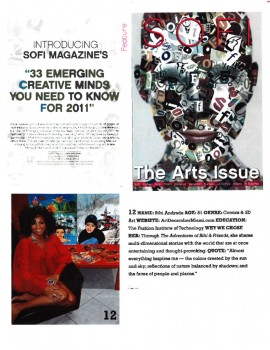 The 13th edition of  The Adventures of Bibi & Friends will promote your businesses to the trend-setters and affluent crowd that call both New York and Miami their home as well as the international travelers that frequent both cities. The Adventures of Bibi & Friends has been a popular guide among Miami locals and tourist for years and this issue will become a keeper for residents and fans of both cities. This issue will be distributed at key spots and venues in both cities throughout 2011.