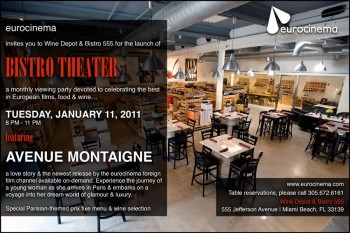 Eurocinema Launches "Bistro Theater" With Avenue Montaigne At Wine Depot At Bistro 555
Tuesday, January 11, 8:00 PM to 11:00 PM
Wine Depot at Bistro 555
555 Jefferson Avenue
Miami Beach, FL 33139
www.eurocinema.com
Foreign movie channel celebrates European film, food & wine at monthly viewing series
On Tuesday, January 11, 2011, eurocinema will launch its "Bistro Theater" monthly viewing series at Wine Depot at Bistro 555. The collaboration between the wine store and foreign movie channel available on-demand aims to celebrate European culture by spotlighting the best in international film. The first installment will feature a screening of the French romance Avenue Montaigne, the story of a young woman's journey as she arrives in Paris and embarks on a voyage into her dream world of glamour, luxury and the arts. Guests will also enjoy a special $30 French-themed prix fixe menu and wine selection by Wine Depot at Bistro 555.
Held on the second Tuesday of each month, the series will showcase different selections from the film channel's catalog, along with reduced price food and wine menus catered to each movie's country of origin. Advance table reservations are available by contacting 305.672.6161. For more information on eurocinema please visit www.eurocinema.com.
eurocinema is the leading provider of European films, available on-demand. eurocinema offers viewers access to a unique selection of award-winning box office films with a few clicks of a remote, 24/7. Available in over 31 million U.S. and Canadian homes; eurocinema can be found under the Indies/Foreign/International Film category of cable or satellite provider's On-Demand menu. For more information visit www.eurocinema.com.
Wine Depot & Bistro 555 is a multi-faceted wine store, wine bar, bistro and event space all in one. Offering an amazing selection of over 400 affordable wines and champagnes, and delicious lite bites, there is truly something for everyone. Wine Depot & Bistro 555 boasts an indoor area, large outdoor patio and a magnificent rooftop where guest can relax and unwind. Delivery service is also available. Wine Depot & Bistro 555 is located at 555 Jefferson Avenue, Miami Beach, FL 33139 and is open Monday – Saturday 11:00 a.m. to 11:00 p.m. For more information, please visit www.WineDepotMiami.com or call 305.672.6161.