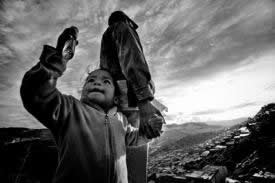 The United Nations HCR World Tour Photo Exhibition comes to ArtServe
Opening Reception Monday, January 10, 2011 from 5-8pm
ArtServe's JM Family Enterprises Gallery
"Invisible in the City: Lives of Urban Refugees" has toured Shanghai, Geneva, Milan, and New York.
To illustrate the resilience of refugees in cities, their hopes and dreams as they struggle to simply survive, make a living and care for their families, United Nations Higher Commissioner for Refugees (UNHCR) sent renowned photographer Zalmaï Ahad, to urban settings in Colombia, Malaysia and South Africa. At age 15, Ahad spent three months in his grandmother's basement hiding from the Soviet army before fleeing to Switzerland, where he was educated and still lives.
Internationally acclaimed photographer Zalmai's work has been published in several magazines and newspapers, including the New York Times Magazine, Time Magazine, Le Temps, Newsweek and La Republica.
Fort Lauderdale is the only host city for the 50-piece exhibit in South Florida during the limited US tour. Exhibition runs January 10 – 15, 2011.