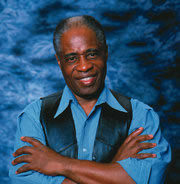 WDNA-FM 88.9 Public Radio presents Jazz Encounters
Friday, January 21, 2011 at 8 pm.
88.9FM WDNA
2921 Coral Way
Miami, FL 33145
Uniting Generations of Jazz Musicians
WDNA's Jazz Encounters continue on the third Friday of January with legendary pianist Norman Simmons
Norman Simmons came out of Chicago in distinguished keyboard company, along with his contemporaries Junior Mance, Muhal Richard Abrams, Jodie Christian and Ramsey Lewis. Quickly, Norman became the accompanist of choice of an impressive list of jazz singers, including Carmen McRae, Betty Carter, Anita O'Day and Joe Williams. Nothing hones a pianist's sense of color, rhythm and harmonic subtlety more than accompanying vocalists. Norman brings that experience to his solo playing, giving unique insight and meaning to any song hechooses to play.
Jazz Encounters celebrate America's classical music, create awareness in the importance of music education, provide personal musical encounters between diverse individuals, and expose the audience to the rich talent in the next generation of musicians.
Young musicians are invited to play along some of the best musicians around, in an informal setting and with the common purpose of establishing a relationship around music and its history.
It's also a lot of fun! Vocalists—-don't miss this one!!!
Students under 21 years old with an instrument are admitted free. General admission is a $15 donation to WDNA. Concerts take place at the WDNAJAZZ GALLERY located at 2921 Coral Way in Miami. For more information, call (305) 662-8889.