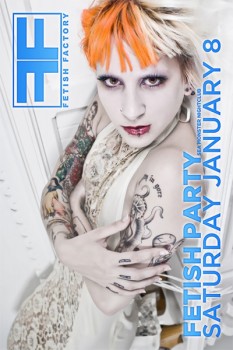 Fetish Party THIS SATURDAY
January 8 @ Sea Monster
Doors- 10pm-4am with full alcohol
Location- Sea Monster – 2 S. New River Drive West downtown Fort Lauderdale
It's a whole new year, and Fetish Factory is celebrating in fine fetish style. This Saturday, our party will be held at our beautiful home venue Sea Monster in downtown Fort Lauderdale.
Dress Code- *STRICT DRESS CODE FROM START TO FINISH* Rubber – Leather – Vinyl – Uniforms – Black Tie (Tux) – Victorian – Drag – Fetish Glam – Cyber Erotic
DJs- SIN, Mad Vinny, Lady Anime
Cover- $15 in advance at Fetish Factory, $15 online, $20 at the door.
This is a gorgeous multi-room, waterfront venue literally underneath the Andrews Ave. drawbridge just south of Broward Blvd. Best of all, the club is open until 4am so the party goes late! Sea Monster is a fantastic, discreet destination venue with adjacent municipal and paid parking.
Thanks to fetish model Kat Kalashnikov and photographer Collective Chaos Designs for contributing images to our party flyer!
For the latest, greatest information, or to purchase tickets, please visit:
TheFetishParty.com
Tickets
Come by the store and get your discount tickets for only $15. Tickets are also available online for $15 +2.50 svc fee (available online until Friday at 4pm), or wait until the last minute and get yours at the door for full price $20.