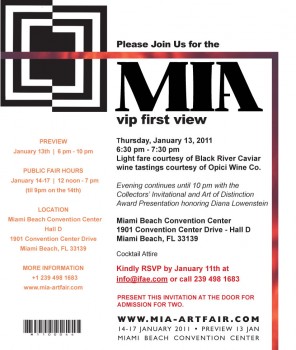 Thursday, January 13, 2011
6:30 pm – 10:00 pm
Miami Beach Convention Center, Hall D
1901 Convention Center Drive
Miami Beach, FL 33139
Kindly RSVP by January 11th at info@ifae.com
www.mia-artfair.com
MIA VIP invitees enjoy early viewing and selection of outstanding master artworks beginning at 6:30 pm.
Savor hors d'oeuvres and wine courtesy of sponsors Black River Caviar and Opici Wines.
The general public is also cordially invited to attend Opening Preview.
They may purchase tickets for the affordable price of $50pp. The preview ends at 10pm
Honoring Diana Lowenstein, a respected member of the international art scene, Diane Camber, the former director of the Bass Museum will present a special tribute to the recipient of the 2011 "Arts of Distinction Award" during Opening Preview.
In addition to offering first viewing of America's most exciting mid-winter contemporary art fair, with 73 exhibitors (25 local and 48 international dealers), Opening Preview of MIA on Thursday, January 13th plays host to an unconventional and energizing new wave of performance projects. For the opening night show organizers, International Fine Arts Expositions (IFAE), have partnered with cultural and community organizations, as well as established and emerging artists, to unveil a bevy of surprises and ensure a comprehensive and "next-generation" experience.
First there is show curator Gean Moreno's experiential presentation. The noted Miami artist, critic and curator, has created a truly multi-disciplinary playground for audiences through a collaborative effort with SPRING BREAK, a non-profit organization designed to develop new modes of approaching contemporary art and culture within South Florida, and augurari, also a non-profit which publishes audio works by contemporary visual artists. "These groups are pioneering, daring and young. They engage audiences through a combination of music, performance and visual arts," exclaims Moreno.
Graffiti artist Jona Cerwinske will create magic once again. The artist who gained viral fame for transforming a Lamborghini Gallardo into a jaw-dropping piece of art, and with only a Sharpie, will have at it again. This time with a Porsche Carrera S 911. Additionally, he will paint the the walls of the Rudolf Budja Gallery booth space, the gallery where he is currently exhibiting. Patrons will be able to watch Cerwinske apply his midas touch in an unforgettable performance.
On the heels of a successful sold-out show in Zurich, Russian artist Artem Mirolevich will mesmerize audiences as he blurs the boundaries between painting and performance art with "Transformation." He begins with a white backdrop. Adds color, depth and texture to create a setting. He then introduces a half- or nearly- naked model who melts into the background and becomes part of the canvas. A videographer will capture it all on film as will professional photos of the completed work.
Last, but certainly not least, is mixed media provocateur Lucinda Linderman, an artist with a powerful message about environmental stewardship. Linderman uses reclaimed plastics and other reusable materials to create her sculptures, installations and mixed media pieces. For the opening night, Linderman unveils a fashion performance entitled " Excess Extravagance", which correlates the perceived extravagance and excess of the royal court of the 18th century and the Rococo style with American consumerism today. "For this performance, I am reclaiming plastic to create a dress as extravagant as the dresses worn by Marie Antoinette to bring to light the waste created by our striving to be extravagant," said Linderman.
Another exciting feature Preview-goers will get to experience first is a revolutionary new Apple application. The free MIA iPhone app powered by Collectrium allows visitors to take a snapshot of any artwork exhibited at the fair and instantly receive extensive information on artist and piece, add their own notes, bookmark it for later, share with friends via social media outlets like Twitter and Facebook and even contact the gallery directly. The app also boasts other nifty features like the ability to view the entire catalogue on your mobile device, see a map of the Show and review programming for the course of the four-day Fair.