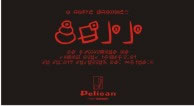 Pelican Hotel
2011 A Dance Odissey
826 Ocean Drive
www.pelicanhotel.com
(305) 673-3373
Welcome to the Legendary Pelican NYE dinner party.
The Pelican NYE 2011 Celebration will follow in a (16 years) long tradition of fantastic parties.
For this year, we will venture back to the Sci-fi world of the early 50's, with an journey into a different world, with decorations that will make you want to be a Space Cadet again. Fly through a universe of space sounds, look at far, far away planets, meet the Alien Girls and learn the alien alphabet!
An intergalactic 5 course dinner, by Pelican Executive Chef Stefano
Zen, fine wines and champagne will lead you to the midnight countdown!
The music will come from Pelican's very own Paolo Albertoni DJ.
Dinner Package Price: $ 295 per person plus tax & gratuity*
o 5 course dinner
o 1 bottle of Champagne, per couple
o Party Favors
o Live dj
o $ 380.55
$ 295 +
$ 26.55 (taxes 9%) +
$ 59 (gratuity 20%)
Thank you for using Soul Of Miami!