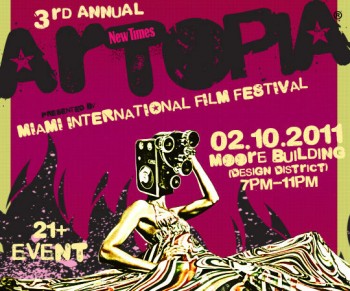 February 10, 7-11 p.m.
Moore Building in the Design District
4040 NE 2nd Avenue, Miami FL 33137
$15 presale, $20 at the door
Ages: 21 and older
Website.
Buy Tickets Online.
Facebook Fan Page.
Hurry! Get your tickets half price until January 3!
Miami New Times and Miami International Film Festival present a can't-miss cultural event: Artopia. Art, live music, fashion, film, and performance will combine to satisfy the culture fixes of artistically inclined movers and shakers. Complimentary drinks and hors d'oeuvres will be served. This event benefits Hands on Miami.
A night of style. art. and individuality.
The eye-popping spectacle — Artopia: a night of music, film, fashion and art — will be held in Miami in February.
Confirmed line-up includes Art by Lebo, Music by Chico Mann and Fashion by Luis Valenzuela. More artists will soon be announced.
Also, don't miss the special presentation of the 2nd annual Mastermind Awards Ceremony. At the event, Miami New Times will award $4,500 in grants to progressive individuals or small organizations that have made an impact in the local art community.
Artopia® is co presented by the Miami International Film Festival and in association with the Downtown Development Authority.
New Times will also be announcing the winners of our Mastermind Awards. The goal of the contest and the party is to build a more vibrant arts community, to foster cutting-edge work, to celebrate local artists, and to hopefully draw unknowns from the woodwork.