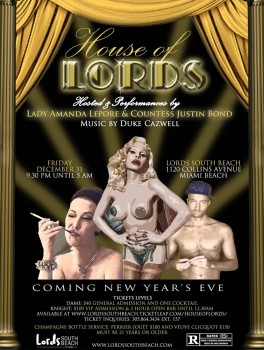 December 31st
9:30pm to 5am
House of Lords New Years Eve bash hosted by Lady Amanda Lepore & Countess Justin Bond with music by Duke Cazwell
Friday, December 31 from 9:30pm – 5am.
Tickets available from $40 (general) -$100 (VIP).
Buy tickets online.
Champagne bottle service available.
Thank you for using Soul Of Miami!