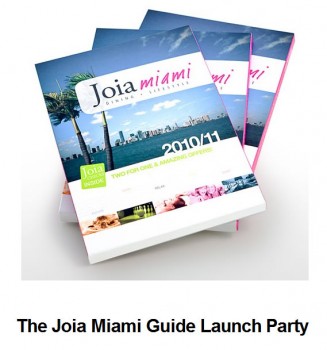 Joia Miami Launch Party
January 27, 2011, 7pm-10pm
Cafeina
297 Northwest 23rd Street
Miami, FL 33127
www.insensemiami.com
Have you heard? Paying full price is so pase.
Discounts are what's in fashion!
Join us at Cafeina as we launch Miami's premier Lifestyle and Dining guide chock full of Miami's best kept secrets.
If you aren't "in the know" now you will be – and if you already are, then you know that Joia is the best thing to happen to Miami.
Enjoy complimentary drinks, drink specials and live entertainment! Make sure you join us as we will have Salsa Performances, Hoola Hoopers, And Capoeira!
Joia guides will be available for purchase at HALF the PRICE!
Or if you just can't wait (don't blame you) use promo code JOIA2011 to get the discount now at http://joiaguide.com/
RSVP today before we reach capacity!