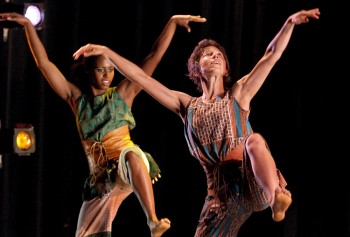 Miami Dances performing at Florida Dance Association's WinterFest
Friday-Saturday, Jan. 7-8, 8 p.m.
Byron Carlyle Theatre
500 71st Street, Miami Beach
$10 (students/seniors) $15 (general)
Tickets can be purchased on the website or call 305-310-8080
Nationally and internationally acclaimed modern dance companies will take the stage for Florida Dance Association's third annual WinterFest, Dec. 27-Jan. 28, in various venues throughout Miami and Miami Beach.
Showcasing the work of Miami-Dade County Choreography Fellowship winners. Invited performers include Heather Maloney, whose work addresses global issues and social change; native Brazilian performer, Augusto Soledade, founder and artistic director of Miami's Brazz Dance Theater; choreographer Letty Bassart; and the wild and zany Octavio Campos. www.brazzdance.com
www.camposition.org
More on Florida Dance Festival and WinterFest: Established in 1974, Florida Dance Association is Florida's statewide arts/dance service organization that has built a national reputation for excellence in both educational programming and quality of performances presented throughout the state. WinterFest is a high-performance event exposing audiences to outstanding contemporary dances from Florida and throughout the country.