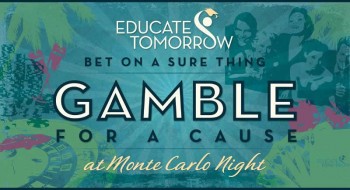 January 8, 2011
7:00 pm – 12:00 am
Private Bayfront Estate
17575 Old Cutler Road
Palmetto Bay, Fl
VIP Tickets: $250
Tickets: $200
Tickets available through our website or by calling 305.374.3751
Tickets are limited, please reserve soon.
Casino games provided by Royal Casino Events.
Enjoy the culinary offerings of: Smith & Wolensky, Tap Tap, Red And More!
Desserts Provided By: Platinum Treats, Jennifer's Homemade, Cakes By Denyse, Homebaked By Tara
Corporate Sponsorships Available: $1,000 – $20,000
Gala Chair: Jason Mazer
Auction Chair: Kara Sharp
Steering Committee
Ivette Day
Mirelle Enlow
Natalie Escudero
Erica French
Eunice Irizarry
Shawn Joost
Mary Kondrachuk
Natalie Roling
Scott Shrey
Elizabeth Smith
Sandra Upegui
Patti Valdes
Contact Shawn Joost for further information by calling 305.374.3751 or emailing joost@educatetomorrow.org
A portion of your ticket is tax deductible. Educate Tomorrow is a certified 501(c)(3) organization.
Graphics Donated by Amaniac Design
Save 50%: In honor of National Mentoring Month, ET Mentors can purchase a Mentor Appreciation Ticket at half price!All current Educate Tomorrow mentors can purchase a Gala ticket at 50% off. Please call the Educate Tomorrow office at (305) 374-3751 to purchase Mentor Appreciation tickets.