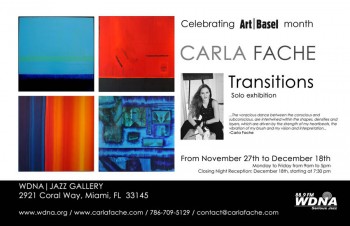 "Transitions"- Solo Art Exhibition By Carla Fache
Celebrating 2010 Year- End With Miami-Based Artist,
At The Jazz Gallery, December 18th, 2010.
The Jazz Gallery, in conjunction with the WDNA Miami radio, is proud to present "Transitions"- Solo Art Exhibition of Miami based abstract artist, Carla Fache.
"Transitions" – Solo Art Exhibition, invites the viewer to experience what the artist describes as " Emotional Mathematics". Where color is the protagonist of the show, through its vibrations and inner light technique, and balance, through the conjugation of shapes and layers, the dance floor. "My imagination travels to non-existing dimensions that I best describe through a process of layering. When I paint, I feel I'm hypnotized by colors and textures, all of which will create soft, thin layers that hide or reveal a mark of an unspoken feeling, emotion, or thought."
Mixed media, acrylic on wood, canvas and paper, are some of the works Fache will display in this color field exhibition. With this solo art show; Fache will culminate 2010 with an explosion of color, abstract expressionist, and style. Her show at the Jazz Gallery / WDNA will also feature news paintings that will also be available for sale.
"It is through the color where I release the energy of my dialogue; the frontier between the convex and the in-convex, the essential and the primitive, the engine of the full and the throttle of the eternal inner strength search … what thrills and transcends the essential."
Fache's works have been exhibited in leading galleries and museums throughout the world and are owned by numerous corporations and various international collectors. Come and discover the fascinating work of Carla Fache at the Jazz Gallery Monday to Friday from 9am to 5pm.
Closing Night Reception December 18th, starting at 7:30pm. Fache's exhibition will continue at the Jazz Gallery/ WDNA through December 23, 2010.
For more information about "Transitions"-Solo art Exhibition, please visit www.wdna.org / www.carlafache.com or call 305-756-7975. Admission is free.
Come and discover the fascinating work of Carla Fache at the Jazz Gallery